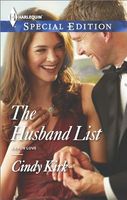 Series:
Rx for Love
(Book 11)
Mr. Right-Next-Door
For orthopedic surgeon Mitzi Sanchez, every step up the ladder of success has been the result of hard work and self-sacrifice. She's got the perfect life in the perfect town. Now she just needs the perfect man….
Pilot Keenan McGregor's life changed forever when he took the blame for someone else's actions. He just wants to rebuild his life, and he's definitely not looking to settle down. Still, whenever he's working with Mitzi, their connection is undeniably electric! Soon they're more than just friends-with-benefits -- but can Keenan convince the good-girl-next-door that she's the only woman who can tame his heart?
Good book. Mitzi has worked hard to make a success of her life after a rough childhood. She's given up a lot to get where she is. Now she's ready for the next step - finding a husband. She knows what she's looking for, she even has a list. Keenan isn't on that list, but he'd sure like to be. He is back home after several years spent in prison for something he didn't do. Now that he's free all he wants is to rebuild his life. He doesn't feel like he has anything to offer a woman yet, but he's happy to spend time with Mitzi just being friends - until that's no longer enough.
I loved Keenan. He had been convicted of something he hadn't done, but didn't fight it because his sister had been threatened if he did. Once the truth came out and he was released, he headed home to Jackson Hole to try to start over. He met Mitzi at his welcome home party and was instantly attracted to her. He'd like to spend time with her, but feels she's way out of his league. The attraction is mutual, but both agree that they're not what the other needs. They decide it's safe enough to be friends. I enjoyed seeing the way that they got to know each other and developed a good friendship before anything else happened.
I had a little harder time warming up to Mitzi. She really came across as rather snobby. For someone who started with nothing I would have expected her to be much more understanding of someone who was starting over. But she seemed much more interested in finding someone "suitable" and then trying to love them than in following her heart to begin with. I didn't care for the way that she behaved at the pizza place when she was out with Keenan at all. Once she decided that even though she wasn't going to have a relationship with him they could still be friends things started to pick up. I enjoyed seeing Keenan get her involved in having fun. Then, once again, her selfish side popped up with a kissing incident. I liked that she finally started to see how unfair she was being.
I enjoyed seeing the feelings building between them, but sure wanted to smack them both when they refused to see what was right in front of them. I liked seeing Mitzi be willing to chase that last dream and ached for her when Keenan bailed on her. Keenan was still letting his insecurities win out. I loved seeing his sister tell him what an idiot he was being. I loved his big moment at the end and seeing him finally allow himself to be happy.