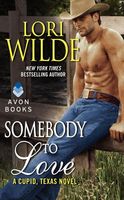 Series:
Cupid Texas
(Book 3)
Sexy cowboy-scholar Jericho Chance always knows exactly what he wants and how to get it. And after sauntering back home to Cupid, he's shocked to discover that he wants Zoe McCleary. After years from home, he takes one new look at his bubbly best friend, with her lightning smarts and luscious body, and it hits him like a bolt: she's his somebody to love and he's not leaving town again without her.
Settling down always seemed like a time waster to Zoe, a man magnet with a trail of broken hearts behind her. She's not meant to settle down -- but how can she resist someone as persuasive as Jericho? There's no way they can ignore the explosive chemistry seething between them . . . even if it means risking their friendship . . .
Very good book. Jericho has returned to Cupid to apply for his dream job at a local university. He ran into some trouble during his last job and he needs this one to help repair his reputation. He's happy to see his best friend Zoe, but something has changed in the way he looks at her. Zoe has always been a free spirit, bouncing from thing to thing and man to man, and Jericho has been the one constant in her life. Her feelings for him have been changing, but she's not sure she wants to risk their friendship.
I loved both Zoe and Jericho. Zoe is the youngest in the extended family and ever since her parents' deaths when she was little has been a bit spoiled. She is known for not sticking to anything because if she doesn't like it, she quits and moves on rather than waste time on something that doesn't fit. But she gets a hard time from her family members, who consider her flaky and immature. There's a scene where she overhears people talking about her and even her sister is negative about her. I felt so bad for her because it really hurt her to hear what they said. She has finally settled on what she wants to do, but no one seems to believe she'll stick to it. Even the relative in control of her trust fund has told her that if she quits this time, he's cutting her off from her funds completely. She's determined to show everyone that she has changed.
Jericho is back in town hoping to land a job at the local university. He needs this job to help repair his reputation after some problems at the last one. He's looking forward to spending time with his best friend Zoe again. They've stayed in touch, but emails and phone calls aren't the same. He doesn't expect to take one look at her and see her as much more than his longtime buddy. He'd like nothing more than to pursue these new feelings, but with her as one of his students on a local dig, he has to keep some distance between them. That proves to be impossible, and suddenly he's risking his job, and Zoe her trust fund.
I loved the interactions between Zoe and Jericho. Jericho is a pretty serious and sober guy, but being around Zoe lightens him up a lot. He never seems to have trouble following her thought processes and he really understands her. He can get frustrated at her impulsiveness, but he gets what she's doing when it happens. He's falling hard for her, but he's also running a bit scared. He's afraid that he won't be enough to keep her from flitting away again. While Zoe brings fun to Jericho, he brings a steadiness to her. Knowing that he's always there gives her a sense of security that she doesn't feel with anyone else. Her feelings for him have been changing for some time, but she thinks that she doesn't have the ability to settle down. The deep friendship that they've always had is a great foundation for their feelings, but the chemistry between them has them both feeling out of control. Both of them have to face their fears before they can find their future together.
The other big thing that is going on is the archaeological dig that Jericho is in charge of. The land is part of a nature preserve that Zoe's family owns, and where some of Jericho's ancestors used to live. When artifacts are found that show that a legend may in fact be truth, things start to get a little weird around the site. Strange things start to happen, and one of the artifacts disappears. Zoe's propensity for solving puzzles and finding trouble has her suspecting that there's a secret in her family that's about to be exposed. I really enjoyed the buildup of this storyline, from the recounting of the legend by Jercho's great-grandmother to the final showdown. I especially loved the bits of Native American culture and information on dig procedures that were woven in.