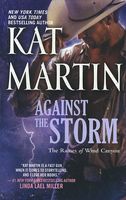 Series:
Raines of Wind Canyon
(Book 4)
Some women find trouble wherever they go. And some men are their only protection against it.
Redheads like Maggie O'Connell are nothing but trouble. But Trace Rawlins, a former army ranger turned private investigator, takes the case anyway. After all, he knows a thing or two about women.
Trace can sense that something is wrong -- Maggie isn't telling him everything. If these menacing calls and messages are real, why won't the police help her? And if they aren't real, what is she hiding?
As Trace digs deeper to find the source of Maggie's threats, he discovers a secret that no one was meant to uncover. And the only puzzle left to be solved is whether the danger comes from an unknown stalker...or from the woman he's trying his hardest not to fall for.
Good book that kept me intrigued from the beginning. Maggie has been getting creepy notes and calls, but the police are no help at all. When a friend suggests she hire a private investigator, she calls on Trace. He takes the case against his better judgment. He has a weakness for redheads and he senses that this one isn't being completely honest with him.
Both Maggie and Trace had their issues. Trace has a bad marriage, to a redhead, in his past. In spite of that, he still has a weakness for a redheaded woman, he's just made the decision to avoid anything that looks like commitment. Maggie has commitment problems of her own, thanks to a mother that never stuck with a marriage once things stopped being easy.
Maggie is a successful photographer who is having problems with a stalker. She goes to Trace for help because she gets no satisfaction from the cops. She had made a false accusation while she was in high school and as a result they don't take her seriously. Trace is willing to take her case (that redhead thing, y'know) as long as she listens to him and is honest with him. Right there is where they start running into problems, because when he asks her about certain people in her past, she leaves things out because she doesn't think they're important. Trace is rightfully angry when he finds out because some of that information could be important. She also has a tendency to go off on her own, even though he's told her not to, because she feels she has to be free to do her work. It takes several times of these idiotic moves for her to get it into her head just how dumb she's being. Another thing contributing to her issues is that she is really attracted to him. She doesn't want to be because she can see herself falling for him, which would be bad all around. Even once she gives into the attraction she really doesn't expect it to last past the solving of the mystery.
Trace runs a successful security company. He is at heart a true Texas gentleman who is very protective of women who find themselves in trouble. His weakness for redheads has gotten him in trouble before, especially when he married one of them. She is a plague to him that he still hasn't quite managed to shake loose. He feels that getting involved with Maggie is a bad idea from the beginning, but he does feel that she is telling the truth about the notes and calls she is receiving. He is intent on finding out who is terrorizing her, but is continually frustrated by her lack of cooperation. He's glad when she finally starts taking him seriously, and then their attraction adds a new layer to their relationship.
Neither Trace nor Maggie was looking for any kind of long term relationship. As a matter of fact, they fought the idea of it every step of the way, thanks to their individual issues with trust. But the more time they spent together, the more their hearts started to over rule their heads. Even so, their fears still managed to nearly drive them permanently apart, except for the danger that had them looking at what was really important.
The suspense part of the book was well done. The stalker's actions show a steady escalation that emphasizes the danger that Maggie is in. I enjoyed seeing the way that Trace and Maggie worked together to try to uncover the culprit. I have to say that the stalker was not who I thought it was, which was kind of nice because I don't like it when I figure things out too soon. There was a secondary problem that we knew the who, but not the why. That also was brought out at the end and made a satisfying finish to that puzzle.
I also enjoyed the secondary storyline that involved Maggie's sister and another client of Trace's. It was great to see Maggie connect with her sister, giving her a healthy relationship with a member of her family. Her sister was pretty sweet, and as independent as Maggie. I loved seeing her get involved with a nice guy like Jason. I liked the respect that Jason had for her, and the way he actually listened to what she really wanted.