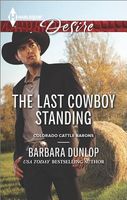 Series:
Colorado Cattle Barons
(Book 6)
Rope 'em. Ride 'em. Wed 'em?
With his family pressuring him to settle down, Travis Jacobs hightails it to the rodeo for a no-strings fling. But the bull rider never expected to bump into Danielle Marin. The pretty lawyer once rebuffed his flirtations. Now, however, she looks ready for a little fun.
Danielle knows getting involved with a rogue like Travis will only lead to heartache. Her career in question, she should be thinking with her head, not the heat of their kisses. But when all roads lead back to Colorado -- and Travis -- resistance is futile. Will she finally manage to lasso the last cowboy standing?
Good book. Travis and Danielle have known each other for a couple years and strike sparks every time they meet. Danielle thinks he's rude and stuck on himself, and Travis thinks she's a bit of a snob, but he's attracted to her anyway. Travis is in Las Vegas for a rodeo at the same time Danielle is there for a lawyer's conference and they run into each other. This time the sparks burn brighter and they decide to see what happens.
Danielle is a focused and independent woman. She has always been told to look out for her interests because any man she gets involved with will have his own interests in mind no matter what he says. She has an excellent job in Chicago, with some trips to Colorado to work with one of her clients, Caleb, who is friends and neighbors with Travis. Danielle has been offered an excellent job with another firm in DC and is trying to decide what to do. One of the lawyers at that firm is an old boyfriend who is pressuring her to accept the job. Danielle doesn't take well to someone trying to tell her what to do, plus she now has Travis on the other side telling her not to take the job because the other guy is just trying to get her there for him. Danielle wants to be able to make up her own mind. She's trying to think logically about the offer, but thoughts of Travis keep interfering.
Travis was in Las Vegas to blow off some steam. He is the last unmarried member of his family and is feeling a bit of pressure. He is also the one who is now in charge of running the family ranch, as all of his siblings have married and taken other paths. He feels that he wasn't really given the option about what he wanted to do and occasionally feels trapped. Escaping for a few days of rodeo and perhaps a chance to spend some time with a woman gives him an outlet for the frustration. Seeing Danielle perks him right up because he really does enjoy their encounters. He's dismayed to find out about her possible move because he realizes how much he would miss her. He also discovers that he is very possessive, and the old boyfriend really bugs him. It's kind of fun watching the things his jealousy gets him into, especially since he doesn't really realize that jealousy is what he's feeling. When Travis sees something he wants or thinks something should be a certain way, he does whatever he has to to make it happen. In this case he has an idea of a way to keep Danielle in Colorado and pursues it, not realizing that it can appear that he is trying to manipulate her.
In the end, Travis had to suck it up and admit what he did, but he had also realized by that time just why he did it. I loved the vulnerability that showed as he told Danielle how he felt. On her part, Danielle had to trust her feelings and believe that what she and Travis had would last. I really loved that last scene in the hotel room and the way that Danielle totally surprised Travis.