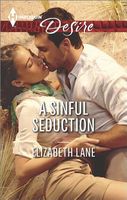 A man with a plan...for revenge
East Africa is the last place philanthropist Cal Jeffords expected to find glamorous Megan Rafferty, his best friend's widow. Now that he's tracked her down--she's been working as a volunteer nurse for his own foundation--he'll stop at nothing to get answers...including getting her into bed. When he finds out what happened to the millions she embezzled from the charity, he'll make her pay.
Megan does have something she's hiding, but it's not what Cal thinks. Ultimately, the truth will make it impossible for him to see their African adventure as a simple seduction--and to let her go.
Two years earlier Cal's best friend had committed suicide after millions of dollars disappeared from the foundation's accounts. Right after the funeral Nick's wife Megan disappeared, and Cal has been looking for her ever since. He is certain that she knows what happened and that she has the money, and he is determined to hold her accountable. He doesn't expect to find her working as a volunteer nurse in the worst parts of Africa.
Megan isn't surprised when Cal finds her. She knows what he believes and that nothing she can say will convince him otherwise. All she wants to do is to help the people around her. The last six months have been rough after she witnessed some horrific things. She has nightmares and panic attacks and has lost a lot of weight. She's not happy when he conspires with the doctor at her refugee camp to take her away for ten days for forced relaxation. She's sure it's just a ruse to badger her about the same old things.
I found Megan to be an incredibly strong woman. From surviving the misery of her marriage to the things she's experienced in Africa, she fights for everything she gets. Cal's arrival shakes her up because she knows she can't give him what he's looking for, as much as she would like to. She also found herself attracted to him, but her fears stop her from being able to pursue it. The more time she spends with him, though, the more she starts to care and want to overcome those fears.
Cal had focused on Megan as being guilty because he hadn't trusted her from the beginning. He always felt that she was hiding something, and when she fled that just convinced him all the more. But when he tracked her down in Africa she seemed completely different than the woman he remembered. He feels that the only way to get to the truth is to get her to trust him. He takes her away on a photo safari and tries to get to the truth. He still feels that she is hiding something, but his attraction to her creates some confusion and conflict.
When Cal discovers the truth behind her nightmares and panic attacks he is horrified. His protective instincts have been growing stronger the more he's gotten to know Megan. His feelings begin to change and grow. He starts to suspect that his friend wasn't blameless after all, but before he can talk to Megan about it she discovers that he still hadn't given up on his search. She flees back to her refugee camp. There are a few twists and turns before each of them realizes what is most important and they find their way back to each other.
I loved the setting of the book also. The heartbreak of the camps was realistic without being too stark for the book. The descriptions of the wildlife and landscape that they encountered were quite vivid. The beauty around her went a long way toward helping Megan heal. I enjoyed the characters of Harris and Gideon and their parts in bringing Cal and Megan closer together.