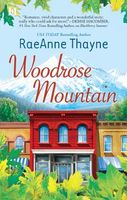 Series:
Hope's Crossing
(Book 2)
Evie Blanchard was at the top of her field in the city of angels. But when an emotional year forces her to walk away from her job as a physical therapist, she moves from Los Angeles to Hope's Crossing seeking a quieter life. So the last thing she needs is to get involved with the handsome, arrogant Brodie Thorne and his injured daughter, Taryn.
A self-made man and single dad, Brodie will do anything to get Taryn the rehabilitation she needs...even if it means convincing Evie to move in with them. And despite her vow to keep an emotional distance, Evie can't help but be moved by Taryn's spirit, or Brodie's determination to win her help -- and her heart. With laughter, courage and more than a little help from the kindhearted people of Hope's Crossing, Taryn may get the healing she deserves -- and Evie and Brodie might just find a love they never knew could exist.
Very emotional book. Evie left Los Angeles and her job as a physical therapist when the emotions involved in one of her cases got too hard to handle. She came to Hope's Crossing at the urging of a friend and has found a sense of peace while she works at the local bead store. She has put her life as a physical therapist behind her until Brodie comes to her asking for help with his daughter. Taryn was in a terrible accident that left her unable to move or speak easily, and has been refusing to cooperate in therapy. Brodie is desperate and will do anything he can to convince Evie to help.
Evie tries hard to refuse to help. She knows that she can't handle getting emotionally involved with Tayn or Brodie. But something about Taryn compels her to help, though she tries to protect herself. It isn't long before she is as emotionally invested as she'd feared. To top it off, Brodie isn't as much of an arrogant jerk as she had thought he was, and she sees past the attitude to the worried father. Evie is determined to do whatever is necessary for Taryn and this sometimes puts her at odds with Brodie. She stands up for her methods and things start to look up for Taryn.
Brodie is a man with a mission. He wants Evie's help and he will do whatever he has to in order to get it. It doesn't help that he doesn't like her much, her free spirit knocking up against his need for control and order in his life. Being around her as much as he is, he starts to see a different side to her. Soon he is fighting an unwilling attraction to her, and finding that being with her brings him a sense of calm that he hasn't experienced with anyone else.
Things don't always go very smoothly between them as they find themselves on opposite sides of one particular therapy issue. Evie has discovered that Taryn's therapy is more successful when assisted by friends. One of those friends is the young man who caused the accident that injured Taryn. Brodie is furious at his presence, but Evie stands up for what she feels is best for Taryn. The romance itself is slow building as they get to know each other and open up about their own issues. Brodie comes to the realization of his feelings before Evie does, and tries to get her to agree to pursue them. Evie has to find the courage to risk her heart again.
Taryn's story is emotional in itself. She has gone from a vivacious teenager to a girl who needs help with the most basic of needs. She wants to get better, but she also feels that she may deserve everything she is going through. Throughout the book there are indications there may have been more to the accident than everyone believes. Taryn's emotional ups and downs seem to be tied to the blame everyone places on Charlie. There's an extremely emotional scene at the end when Taryn attends Charlie's hearing and speaks in his defense.