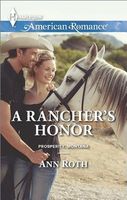 Series:
Prosperity Montana
(Book 1)
One Night With A Cowboy
There's no room in day-care owner Lana Carpenter's life for casual flings. After all, her dream of adopting a baby is closer to becoming a reality than ever. So why is she still mooning over the sexy cowboy who made her forget everything but the strong, sure feel of his arms around her?
It wasn't supposed to be more than one unforgettable night between consenting strangers. But when Sly Pettit spots Lana's photo in the local paper, he grabs at the chance to see her again. The guarded rancher is falling hard for Lana, but it can only end in heartbreak. Unless Sly can trust her with the secrets that keep him from believing that, just maybe, they could have a future together.
Good book. Lara is recovering from the news that her ex-husband and his new wife are expecting a baby. He had divorced her because she had been unable to have children. She met Sly while she and her friend were at a local bar. They had an instant connection but as neither wants a relationship they agreed to one night only, then part the next morning.
Lana hasn't been able to forget him, but she has other things on her mind too. She is trying to adopt a baby and a fling just isn't practical. She's surprised when he seeks her out, even though he has said that he doesn't do relationships. They begin a tentative relationship that is leaning a little more on the friendship side as she discovers Sly is very supportive of her plans to adopt. Things get a little complicated when she discovers that he is involved in a lawsuit with his next door neighbor, who is also her cousin. She is torn between her growing feelings for Sly and her need to support her family member. Family is very important to her and she is nervous about telling them who she is involved with. It gets even more complicated when she discovers she is pregnant. Sly has made it clear that he doesn't intend to have children and she worries about how he will react. She wants him to be involved but she's willing to do it alone. I liked seeing her patience with his fears and how she kept him involved without showing any expectations. I got a bit frustrated with Lana's constant worry about pleasing her family. At thirty-two she should be at the stage where she can stand up to them in regards to her own wants and needs. She didn't cave in to their wishes at least, but she didn't speak up either. In the end, Lana had to decide what was more important to her, her love for Sly or the approval of her family. I really liked what she did with her decision.
Sly has never been good with relationships. He keeps things very superficial which drives women away after awhile. Sly doesn't like to risk his heart because every time he does, things go wrong. His parents died while he was young. His uncle took custody of him and his younger brother but not his little sister, who went into foster care. The uncle wasn't good to them, so Sly tried to do his best for his younger brother. Unfortunately, Seth went down a bad road no matter what Sly did and ended up dropping out of school and disappearing. Sly blames himself and swears he will never inflict his poor parenting skills on a child of his own. He also had a bad relationship in college that soured him on love. His night with Lara was incredible and he hasn't been able to get her off his mind. He wants to get to know her better, in spite of his misgivings. Even though he tells himself to stay away, he finds himself getting involved in her life. He supports her through her nerves about adopting and helps her assemble furniture for the nursery. He likes talking to her and discovers they have a lot in common. When she tells him about the baby he is stunned and not real happy, but he promises her his support. He can't stay away from her and finds himself growing closer to her and more comfortable with the idea of the baby. I loved the scene in the doctor's office. He also starts thinking about what it would be like to have her in his life permanently which really scares him. He doesn't want to risk getting his heart broken again and when something happens regarding the lawsuit it looks bad for the two of them. I loved seeing Lara's influence on what he does at the end to help resolve it, and how he finally is able to open up his heart.