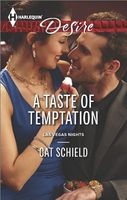 Series:
Las Vegas Nights
(Book 3)
Is lasting love on the menu?
Hotelier Harper Fontaine only wants one thing in life: to take over her family's business empire. And she won't let celebrity chef Ashton Croft screw up the new restaurant in her Vegas showcase. Getting the adventurer to meet deadlines is hard enough, but turning down the flame on their uncontrollable chemistry soon proves impossible.
Ashton has traveled the world but has never encountered a delicacy as delicious as Harper. Sure, what happens in Vegas stays in Vegas, but will Ashton stay for Harper...especially when the chips are down and she suddenly stands to lose it all?
Excellent conclusion to the series. Harper is the intense one of the three sisters, and the one who wants the CEO job the most. One of the show pieces of her Las Vegas hotel is the new restaurant that is due to open soon. Her problem is getting her celebrity chef to stick around long enough to get the job done. Ashton has a lot on his plate, but getting closer to Harper is getting more appealing every day.
I loved Harper and Ashton. The chemistry between them was hot and their encounters even hotter. Harper has had something of a crush on Ashton for a long time. She is a huge fan of his show The Culinary Wanderer (reminds me of Tony Bourdain's No Reservations) and could think of no one better for her restaurant. But she has been extremely frustrated by his apparent inability to commit any time to getting things done. When he is around nothing pleases him and he makes constant changes. She has also discovered that the charisma he shows on television is nothing to what it is like in person, and her attraction to him keeps growing.
Ashton had an interesting childhood as the son of missionaries, but by the time he was a teen he hated the life. He ran away when he was fifteen and after some early missteps found his calling in cooking. As much as he enjoys what he does, he is always looking for ways to step up his game. At the time of the book he has several things going on and none of them are going the way he wants them to. His attraction to Harper is also interfering with his concentration when he needs it most.
Things start going a bit out of control for Harper when she finds out her mother is being blackmailed, but won't tell her why, her sisters reveal a secret that could explain it, but that also makes her question who she is, and then she and Ashton act on their attraction. Being around Ashton makes her think of some of the things she wishes she could do, but can't because of her hotel work. When her life takes an unexpected turn, she takes what she finds out and spontaneously sets out to discover the truth.
Once they stop butting heads, Harper and Ashton discover that there is more than just attraction between them. Ashton finds that there is a lot he likes about Harper. He also sees that there is a bit of an adventurer buried under all her organization and control and he wants to see her take advantage of it. Harper looks past the fame and charisma and finds a man who is searching for something, even though he doesn't realize it. I loved seeing her try to open his eyes to what he was struggling over.
I loved seeing their connection as they grew closer. I could see their love growing stronger, even though neither realized at first how they felt. It was great to see Ashton's support of Harper during her trip to Africa, and how determined he was to be there for her whatever she needed. He wanted more with her, but wasn't sure he could ever be what she needed. He had to take a hard look at what he wanted and decide what was most important to him. Harper also had to look at her future and decide some things herself. I really enjoyed the ending and seeing how both of them finally accepted who they were meant to be and what they did with it.