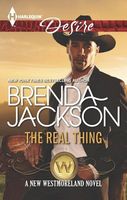 Series:
Westomrelands
(Book 28)
No red-blooded man turns down the chance to escort gorgeous Trinity Matthews -- and Adrian Westmoreland is definitely red-blooded. For her, he'll pretend to be her man. But keeping his hands to himself? That is impossible. A Westmoreland always keeps his word, but how long before Adrian turns this fake affair into something real?
Very good book. Trinity is having problems at work, where a fellow doctor and supervisor is making unwelcome advances. He is also threatening her with ruining her career if she doesn't cooperate. Trinity is the sister-in-law of one of Adrian's cousins, so he offers to play the part of her boyfriend to discourage this guy. It's no hardship for him, as Trinity is a gorgeous woman.
Adrian has been told by various family members to behave himself with Trinity. They all know he is a bit of a ladies' man, but she is family. The problem is, he's been attracted to her for a long time. He really does try, but the mutual attraction they have is too strong. Trinity knows Adrian's reputation, and she also knows that she has no plans to stay in Denver after her residency is finished. The attraction is just as strong on her part and she is quite willing to pursue it, even though it has no future.
I loved Adrian's protectiveness. He is determined that the doctor in question will no succeed and is willing to do what's necessary. Of course, he's thoroughly enjoying being around Trinity. Adrian has no plans to settle down any time soon, but it isn't long before his thinking starts to change. Trinity is different than his usual girlfriend and he discovers that those differences have him picturing a different future. He just has to figure out how to deal with the conflict between her plans and his.
Trinity likes Adrian a lot, and discovers they have much more in common that she thought they did. Their initial playacting takes a turn for the real thing. Trinity plans to go back to Florida to practice which leaves no room for a future with Adrian, but that doesn't stop her from thinking about it.
I loved Trinity's independence, even though she occasionally took it to extremes. She spent a long time trying to cope with that other doctor on her own before accepting help. I was glad to see her accept the help offered. As she and Adrian got closer she was torn between her two desires - to be with him and to go home to practice medicine. If they had just sat down and talked to each other they might have figured out things a little quicker.
I enjoyed the whole harassment story line. That doctor was a real piece of work and it was a joy to see him get what was coming to him. There were a couple scenes with him and Adrian that were great. The threats that were made against Trinity were terrible, and I loved seeing the way that she decided to make a stand. The final showdown was fantastic.