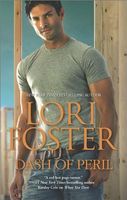 Series:
Love Undercover
(Book 4)
To bring down a sleazy abduction ring, Lieutenant Margaret "Margo" Peterson has set herself up as bait. But recruiting Dashiel Riske as her unofficial partner is a whole other kind of danger. Dash is six feet four inches of laid-back masculine charm, a man who loves life -- and women -- to the limit. Until Margo is threatened, and he reveals a dark side that may just match her own….
Beneath Margo's tough facade is a slow-burning sexiness that drives Dash crazy. The only way to finish this case is to work together side by side…skin to skin. And as their mission takes a lethal turn, he'll have to prove he's all the man she needs -- in all the ways that matter….

Fantastic book. I've been looking forward to Dash's book. He is a confident but mostly laid-back kind of guy, who also has a wide protective streak. In previous books in the series his interest in Margo has become more obvious. In this one, that interest also has him getting involved in her latest case. Margo has been on the trail of men who kidnap women and force them to make pornographic movies by setting herself up as bait. Dash has been watching her and steps in to save her life when she is attacked. Margo isn't happy that a civilian has put himself in danger, but she can't get him to back off.

I loved the heat between the two of then. Their attraction is off the charts. Margo is a take charge kind of person in all ways, but Dash is able to get her to show a softer side to him. I loved seeing Margo give up some of her control to him and enjoy it. As the days went on and they were constantly together, Dash realized that Margo was exactly what he was looking for in his life. I loved seeing how quickly he accepted that he was in love with her. He "only" needed to show her that she could have both a personal and a professional life.

Margo took a lot longer. Her family was all involved in law enforcement and her father had treated her more like a boy that a girl. His attitude had her repressing her emotions and denying any kind of physical weakness, even after being wounded. She had absolutely no idea how to cope with Dash's care and concern for her. I also loved seeing her learn that it's okay to lean on someone now and then. It was a lot of fun to see her learn to trust not just Dash, but the other guys also. Some of the best scenes were when Logan and Reece saw her as something other than their tough boss.

I really enjoyed the building relationship between Dash and Margo. Dash's complete trust that Margo was fully capable as a cop didn't change the fact that he was still protective of her. He knew when to back of and let her do her job, but he also had good instincts for when he needed to stay close. Margo had the most changing to do as she learned how to trust someone other than herself. She was a bit confused by how willing she was to let Dash closer than anyone else had ever gotten. I loved some of the reactions of people to the "new" Margo.

The suspense was great as Margo got closer to catching the bad guys. Her injuries gave Dash the chance to get closer, and also put him there when things really started hopping. The main bad guys were known from the beginning and seeing what they were doing and why helped move the story along. It also gave an indication of how and why they were going to get caught. There were indications that there was more to the story than was evident at first, and there was an interesting twist at the end.

I liked seeing more of Cannon and I'm really looking forward to his story.