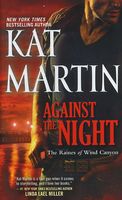 Series:
Raines of Wind Canyon
(Book 5)
He knows what goes on in the dark.
She's got the face of an angel and the body of…well, isn't that what he'd expect from an exotic dancer? But there's something about this girl that Johnnie Riggs can't shake. The former army ranger is hot on the trail of an elusive drug lord -- and suddenly very hot under the collar, as well.
Amy's got her own agenda to pursue: her sister is missing and Amy seems to be the only one who cares. She'll enlist Johnnie's help and do her best to ignore her growing attraction to finally get some answers. But when the two trails begin to converge and reveal something even more sinister than they imagined, their mutual desire is the least of their problems. They'll bring the truth to light…or die trying.
Good story. Amy is a kindergarten teacher masquerading as an exotic dancer in an attempt to find her missing sister. Johnnie is a PI who has come to the club to catch a bail jumper. He notices her right away and can't get her out of his mind. When he meets her he quickly realizes that she is not what she appears to be and is further fascinated. Amy has noticed him also, and when she finds out what he does is determined to ask him to help her find her sister.
I loved the two of them together. Johnnie is an ex-Ranger who is very good at what he does. He takes on Amy's case because of his fascination with her, but quickly gets invested in truly finding out what happened. He is very much the protective, alpha kind of guy who ends up at a loss at how to deal with Amy. He can't get her out of his mind, even though he avoids getting emotionally close to any woman. He has lost people he cared for, and done things that haunt him, so feels that he is better off alone. He tries very hard to keep Amy's involvement in the case to a minimum, but can't deny her when she insists on being involved every step of the way.
Amy feels pretty overwhelmed by what she is doing, but she is determined to find her sister. Exotic dancing is something that is way out of her experience, but the longer she does it the more comfortable she is. When she first sees Johnnie she is attracted to him, but is very wary because of who and what he is. She really wants his help in finding her sister and asks him anyway. I loved the way that she refused to be sidelined in the investigation and made sure that Johnnie kept her involved. There were times she took some risks that could have turned out badly, but her own strengths saved her. Her attraction to Johnnie quickly turns to stronger feelings, but she sees no future in it. She knows he won't/can't commit and she'll be going back to teaching at the end of the summer anyway.
The romance between Johnnie and Amy is hard fought. Johnnie sees both the sweet and innocent Amy and the sexy Angel. He really wants her and finds that his feelings for her are more than he's ever felt for anyone before. He's convinced he's not good enough for her and resists thinking about a future with her. He doesn't see how well suited she is for him, with her ability to stand up for herself. I loved seeing the way that he was frequently confused by the fact that she so easily got her way. Amy falls hard for Johnnie, but doesn't see how her life can mesh with his. She spends a lot of time thinking about what it will be like to have to go back home when this is done. I loved seeing her insist on taking an active part in the investigation, not just sitting back and waiting for Johnnie to do the work. I really loved the scene where she showed him she could defend herself. I loved how she blew away some of his preconceived ideas. I liked the way that she had the courage to tell Johnnie how she felt. There was awhile when I wondered just how long it would take for them to realize that they could be together.
The suspense part of the story kept me intrigued. There were so many threads that had to come together before the whole picture was revealed. There were some villains that were clear from the beginning, but there were a couple that I never saw coming. I really enjoyed the appearances of characters from previous books and their involvement in helping Johnnie. The resolution of Rachael's disappearance didn't wait until the end, but there was more to the story after she was found which made a nice change.