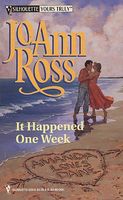 AMANDA'S ROMANCE RESUME
First Love: Ten years ago, Amanda fell madly in love with Dane, the most handsome man she'd ever seen. They kissed till dawn, whispered sweet nothings about forever. Then suddenly it was over....
Present Love: In the middle of the worst week of her life, guess who she comes face-to-face with? Dane -- looking more gorgeous than ever....
Forever Love: Now Amanda has only seven days -- and nights -- for a second chance to say, "I do!"
Good reunion/second chance romance. Amanda and Dane had had a summer romance as teenagers. At the end of the summer they planned to stay in touch, but outside interference prevented it. Neither one forgot the other, even through the hurt they felt over what they thought was betrayal. Ten years later, Amanda is a high powered advertising executive looking for a place to hold a team building session and ends up back at Smuggler's Inn. There she meets Dane again and they discover that the feelings they'd had are still there, but don't know if they have any better chance of a future together.
I loved Amanda's determination to do the best job she can with the retreat. She has a horrible boss, but if he moves up she has a good chance to get his job. She doesn't need the distraction of seeing Dane again, but her feelings for him are as strong as ever. I did think she was awfully quick to judge him when she thought he had never followed through on his plans. As she got to know him all over again she realized that he was much happier with his choices than she was with hers. Her growing feelings for Dane had her questioning what her goals had been and her motivations for them. I liked seeing her make the decision to take what time she could with him, even though she couldn't see a future for them. She ended up with some interesting choices to make.
Dane had returned to Satan's Cove after ten years away. He had learned a lot about the hotel business, but discovered that he missed home much more than he had ever expected. Though his days are just as long as before, he is much happier bringing Smuggler's Inn back to life. He is stunned to find Amanda and her team booked into the hotel, and not happy about it at first. It doesn't take long for them to discover that neither was to blame for the past. I liked the way that Dane moved on quickly after that discovery and admitted that his feelings for her were still there. He can also see the same signs of stress in her that he had gone through and would like to help her, but knows that she has to see it for herself. I loved seeing everything he did to try to make things easier for her. He really wants her to stay with him, but also feels that he can't stand in the way of her dreams. Dane and Amanda had to look at their feelings, their dreams and where they were now in order to find a way to achieve what they wanted. Both had to be willing to make changes.
One of the things I enjoyed was seeing the way that Amanda used her abilities to bring her coworkers together. The teamwork exercises were well done and went a long way toward showing her strengths. I really enjoyed her interactions with her various coworkers, and loved seeing her deal with her obnoxious boss. There were a couple of interesting twists at the end that made the conclusion even more satisfying.
Edition read: