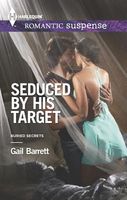 Series:
Buried Secrets
(Book 3)
For victims of violence, Nadine Seymour -- formerly Nadira al Kahtani -- is a savior in surgeon's clothing. But this time it's Nadira who must be saved…from her own corrupt family. Rasheed Davar -- a rebellious CIA agent seeking to avenge his wife's murder -- could risk his undercover mission to save her. But will he?
As a dangerous plot heats up in the nation's capital, Rasheed can't deny the mounting tension -- or his desperate need to tamp down his attraction. Nadira is beautiful. She is brave. And she's just the kind of high-stakes hostage who could awaken his own battered heart -- and lure them both into the terrorists' crosshairs….
Really good book. After escaping from her abusive home and living on the streets for awhile, Nadine went on to become a plastic surgeon. She specializes in helping battered women and children. When the book starts she is on a medical mission in Peru. There she is kidnapped by terrorists who are working for her father and brother. One of those terrorists is Rasheed, who is actually an undercover CIA agent. Rasheed is horrified by what Nadine expects to happen to her and tries to figure out how to save her without jeopardizing his mission.
Nadine was an incredibly strong woman. Her early life had created a sense of independence and ability to take care of herself. When she was taken she fought to escape, and kept her head when initially escape was impossible. She was also determined to save the other doctor who was taken at the same time. When Rasheed tells her who he is and why he's there, Nadine makes the decision to help him.
Rasheed had taken on this mission as a way to avenge his wife. He carries a great deal of guilt because he feels that she was killed because of what he was investigating at the time. The thought of another woman being in danger creates another layer of worry for him. Rasheed also cannot deny his growing attraction for Nadine. Her beauty and bravery have worked their way through the numbness he has felt since his wife's death. He tries to deny his feelings because he feels that the things he has had to do make it impossible to have a future with her.
The intensity of the emotion that grows between them matches the intensity of the danger they are in. Both know that they could be killed at any time, which makes their stolen moments even more potent. As much as they come to care for each other, both have heavy emotional baggage that needs to be dealt with before they can find a life together.
The action and suspense are nearly nonstop. All of the players are intent on their goals which creates some conflict between Nadine and Rasheed, as well as among the other characters. I was completely caught up in what was happening and found much of it felt very believable. The final confrontation was complicated and I was anxious to see how it would work out. The anticipation was worth every minute.
I loved the epilogue as the three couples got together to celebrate the New Year and new beginnings.