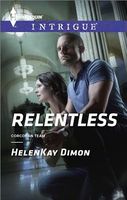 Series:
Corcoran Team
(Book 3)
Branded a traitor for exposing high-level corruption, former NCIS agent Ben Tanner needs to redeem himself. When the hot new operative saves nurse Jocelyn Raine from a brutal attacker, he embarks on his most challenging mission yet: discovering who's after the strong, sexy woman--and trying his best not to fall for her. She has, he learns, something in her past she wants to remain hidden.
But when the attacks on Jocelyn continue, Ben takes her on the run to protect her. Sparks ignite and tension is high as their options dwindle. It's possible Jocelyn's secret has endangered them both. Now it's Ben's job to see they survive the fallout….
Fast paced and intense story. Ben is trying to get his life back on track. After exposing the corruption of his former boss, many people considered him a traitor. He left NCIS to go work for the Corcoran Team instead. During an early mission he met Jocelyn and was drawn to her. After several tries he finally got her to say yes to a date with him. At the end of the date he rescued her from an attack, and another one the next day. He is determined to keep her safe and find out who is behind it and why.
I really liked both Ben and Jocelyn. Ben has been punished for doing the right thing and is still trying to come to terms with what it means for his life. He has found acceptance and a career worth having with the team. But he is still dealing with the emotional wounds of peoples' attitudes toward him. It causes some insecurities in him, though I found it only made him more appealing to me. A hint of vulnerability in a guy like him makes him irresistible. I loved his persistence in trying to get Jocelyn to go out with him. One of the things I liked best about Ben was his support of Jocelyn and his understanding of her own issues. I loved that he always had words of support and encouragement for her. He falls hard for her, but is afraid of bringing more danger to her because of what he does.
Jocelyn had come to Annapolis to escape the memories of her previous life. She keeps a pretty low profile, especially when it comes to men. It takes her a long time to say yes to dating Ben because she has some major trust issues. When he rescues her from her attackers and continues to protect her, she begins to see the differences in him. I really liked the way that she can show Ben that the people who have punished him are wrong and that she sees him for the good man that he really is. She is a strong-willed and independent woman, and while this keeps her from falling apart during the attacks, she also does a couple really stupid things that put people in danger. By the end she knows how she feels about Ben and isn't gong to let him push her away.
The suspense and action throughout the book is great. There is always something going on as things flow quickly from one event to the next. The bad guys are believable and the scenario is something that could happen. There were a couple interesting twists at the end that made the final showdown even more intense. I loved seeing how the team worked together. The respect for each other and their abilities is always there, but you can also see the friendship. I loved some of the teasing that went on among them. I'm really looking forward to Joel and Connor's stories.