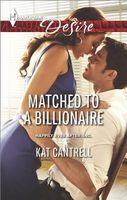 Series:
Happily Ever After Inc.
(Book 1)
Wanted: one convenient wife
Venture capitalist Leo Reynolds is married to his work, but now he needs a wife. Someone to run his home, host his parties--and accept a marriage that's strictly business. His one rule: love will play no part in their union. At least that's the lie he tells himself, until he meets his match....
Enter Daniella White--handpicked by the matchmaker as the perfect wife. Marriage to Leo means security, and she's willing to give up passion for friendship. But the moment they meet, sparks fly. And now temptation--and Leo's own heart--have the billionaire ready to change all the rules.
Good book. Leo is a workaholic but needs a wife to help him with the social aspects of his job. He doesn't have the time or inclination to date, so goes to a matchmaker to help him find the right woman. He wants a wife who is willing to have a strictly business relationship. Daniella matches all the requirements. She is looking for security so that she can take care of her sick mother. She had dreams of the perfect marriage but was willing to give them up for a friendly partnership instead.
Neither of them expected the intense attraction that flared as soon as they met. Leo especially fights it as hard as he can. Long ago he realized that he has a rather obsessive personality. He fears getting so lost in his feelings for Daniella that he would ignore his business and lose everything. He had grown up poor and has worked hard for the success that he has achieved so far, even though he feels it still isn't enough. Leo has some deep seated insecurities that cause him to feel that he isn't good enough. It doesn't take long for Daniella to work her way under his walls and it scares him to realize just how much he wants her. He's convinced that he can't have a successful company and a real marriage at the same time.
Daniella accepts the terms of the marriage because she needs to take care of her mother. She also grew up poor. Signing up with the matchmaker seemed to be her best option after losing several jobs because of frequent absences. Leo has made his preferences clear - she isn't to expect any romance from him, his focus is on work. Her job is to take care of the other parts of his life. Her first sight of him blows her belief in that possibility away. She wants him in all ways in her life, but she knows that it won't be easy to convince him. She had worked hard to become the kind of person she thought he wanted, but found that her real self kept popping out. She can see that Leo has the potential to be a marvelous husband if she can just convince him of it.
I really loved seeing the two of them as they tried to reconcile their intentions with what was really happening. I loved Daniella's determination to show Leo that he could have it all. She had all kinds of little things that she would do to try to get her point across. She had quickly discovered that she wanted more than he was offering and she wasn't going to give up. Meanwhile, Leo was doing his best to block her from his mind and wasn't succeeding at all. This conversation said it best:
"You're driving me bananas. No. Worse than that." He squeezed the top of his head but his brain still felt as though she twirled it with a spaghetti fork. "What's worse than bananas?"
"Pomegranates," she said decisively. "They're harder to eat and don't taste as good."
He bit back a laugh. Yes, exactly. His incredibly perceptive wife drove him pomegranates. "That about covers it."
As the book progressed, Daniella started to gain confidence in herself and her abilities. I loved seeing her work with the matchmaker to help others the way that she had been helped. It also made her realize that she deserved more than she had been getting. Leo also had some changes to go through. From the rather cold, aloof man, determined to keep Daniella at a distance to the relaxed and happy husband was not an easy journey for him. He got a less than pleasant look at himself when his friend Dax made some obnoxious comments about Daniella. He also had to learn about how to have balance in his life. That was a lesson learned from a young man that Leo was mentoring, and was another fun scene in his transformation. Leo's fears were easy to understand as more was learned about him, and I loved seeing the way that Daniella loved and supported him.