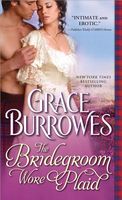 Series:
MacGregor Trilogy
(Book 1)
His Family or His Heart -- One of Them Will Be Betrayed...
Ian MacGregor is wooing a woman who's wrong for him in every way. As the new Earl of Balfour, though, he must marry an English heiress to repair the family fortunes.
But in his intended's penniless chaperon, Augusta, Ian is finding everything he's ever wanted in a wife.
Good start to a new series. Ian needs to marry a woman with money. As head of his family and clan, he feels responsible for their welfare. The estate is barely making ends meet, and one crisis could spell disaster for them. The only thing helping right now is that they host paying guests during the summer. When an English baron contacts Ian about making a match between Ian and his daughter, Ian feels like he has no choice.
When the Daniels family arrives, Ian discovers that his potential bride is very unwilling, but her father is forcing the issue because he wants a title in the family. Ian tries very hard to connect with Genie, but it just isn't happening. However, he does connect with Genie's cousin/chaperon Augusta Merrick. Augusta is the typical poor relation, dependent on the charity of her uncle. She starts out appearing to be rather uptight and forgettable, but it soon becomes obvious there's much more to her.
I loved Ian's care for his family even though I was sometimes frustrated by his human sacrifice attitude. He will do anything for them even if it means he will be miserably unhappy. While it's like pulling teeth to get any time with Genie, spending time with Augusta is easy. He finds it very easy to talk to her, to share his thoughts and feelings, and to ask for her help. It is also very easy to give in to his attraction to her, even though he knows it's wrong and that nothing can come of it. The more time he spends with her, the more he comes to care for her. He also gets the feeling that there is something not right about her circumstances, and puts his lawyer brains and instincts to work figuring it out.
Augusta has been on her own since her parents' deaths. Her uncle told her that her father had left massive debts and that she had nothing left. He sent her to live in isolation on a small property and cut her off from everyone else, except when he needed her to act as a chaperon. She is very happy to have the visit to Scotland, but not so happy to discover that she is drawn to Ian. She is very understanding of his problems and wants to do everything she can to help him. It's not long before she and Ian are spending a lot of time together and their feelings start to grow. Being around Ian starts to change her and she begins to be suspicious of what her uncle has told her all these years. But she is more interested in helping Ian get what he needs.
I really enjoyed the developing relationship between Ian and Augusta. Even though they know nothing can come of it, their feelings for each other can't be denied. I loved seeing how much they both wanted to help the other one, even though it went against what they really wanted for themselves. As the book went on it became obvious that the original plan wasn't going to work, and they needed to find alternatives that would work for everyone.
I loved the secondary romances and how they were all interwoven in such a way that everyone ended up with their heart's desires. They also added depth to the reasons that Ian and Genie weren't going to work out. The support that Ian's siblings gave him emphasized just how much family means to them all. They all tried to convince Ian that he didn't have to sacrifice his own happiness for their security. I loved seeing how they all started working together to find another way.
The character of Genie's father was well drawn as the villain. There were plenty of sections told from his point of view, detailing what he was doing and why. It also became obvious that he was missing things that showed why they wouldn't work out, because he had no clue about what motivated Ian and his family. His treatment of Augusta since her parents' deaths made him feel that he was able to get away with his plans and he couldn't imagine not succeeding in his final attempts. I loved seeing the way they all thwarted his plans for Genie, and loved that it was Augusta who discovered how to do it.
The ending was very satisfying. I liked seeing Augusta stand up to her uncle and fight back when he tried to carry out his final plan. She also had to pin Ian down and make him listen to what she wanted out of her life. Getting him to do something for his own desires wasn't easy, and I loved seeing her do it.