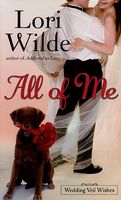 Series:
Wedding Veil Wishes
(Book 4)
Can two broken hearts become one?
Attorney Jillian Samuels doesn't believe in true love and never, ever wished for happily ever after. But when a searing betrayal leaves her jobless and heartbroken, a newly inherited cottage in Salvation, Colorado, seems to offer a fresh start. What she finds when she arrives shocks her: the most gorgeous and infuriating man she's ever met is living in her home!
Tuck Manning was a gifted architect who left a skyrocketing career to care for his dying wife. But the life he's made for himself in this quiet town is turned upside down when Jillian appears on his doorstep. Tuck won't go without a fight, and the two resolve to live as roommates until they can untangle who owns the cottage. Yet as Tuck and Jillian's days--and nights--heat up, they realize more than property rights are at stake...and that sometimes, salvation comes when you least expect it.
This is the final book in the series. I liked Jillian and Tuck and enjoyed seeing their emotional growth as the book progressed. Jillian was the last recipient of the magic wedding veil, but she doesn't believe in magic or true love. After the emotional blow of losing the mentor who was like a father to her and quitting her job to escape a sleazy new boss, she puts the veil on and has an incredible dream of a really hot guy. When she inherits a cottage from her mentor she packs up and moves there, only to find that same guy living in her new house.
Tuck has been merely existing since the death of his wife. He no longer feels the magic he used to feel when designing the buildings he used to love and is working as a simple carpenter. He's not at all happy to have Jillian appear and lay claim to his home, especially since she's the same woman who showed up in a sexy dream he had.
I enjoyed their initial clash and the sparks that flew. The attraction was there, but neither one wanted anything to do with it. Neither is willing to give up their claim to the house so they agree to share it until they can figure out who really owns it. Living together as they are brings their attraction into sharper focus, but they fight it all the way. They agree to be friends and that actually works out pretty well. I liked the way that they really got to know each other without letting anything else get in the way. While the friendship grew stronger, so did their attraction.
Both Jillian and Tuck had major issues that were keeping them from seeing that they belonged together. Tuck was still grieving for his wife and believed that she was the only one he'd ever love. Every time he even thought about being with Jillian he felt guilty. His feelings for her kept getting stronger but he couldn't give up the idea that having a future with her wasn't possible. I had high hopes when they got snowed in together, but he really screwed up. Jillian has spent so long protecting herself that she's not sure she's able to trust herself when it comes to her feelings. She has been abandoned or betrayed by so many people that she cared for that she has stopped expecting anything good to happen to her. She starts to feel some hope for her future as she and Tuck become closer friends. When she decides to kick things up during the blizzard, her hopes take off, then come crashing down. I was actually pretty impressed that she didn't physically maim Tuck after he pulled that stunt. I really liked seeing how she had changed and gotten enough confidence in herself to move on after that.
The ending was pretty good. I really liked the way that Jillian made Tuck work for her forgiveness when he came back. The whole confusion about who owned the house was settled just the way I thought it would be.