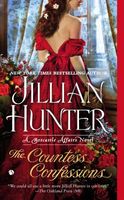 Series:
Boscastle
(Book 13)
All Emily Selwick wanted was to convince the man she had adored for years that she was the woman he ought to marry. She never expected that her ill-fated deception at a party would uncover a scheme against the Crown and ensnare her in the sensual trap of an enigmatic stranger.
Damien Boscastle, the Earl of Shalcross, knows he must marry Emily to defend her honor and keep his mission secret. But, by saving her reputation, he will draw her into his arms as well as a dangerous intrigue.
After a whirlwind courtship that leaves her breathless, Emily finds herself wed to a husband who vows not only to protect her from his menacing world -- but to train his wife in the pleasures of passion.
Good romance with a touch of suspense added to liven things up. Emily had disguised herself as a fortune-telling gypsy in an attempt to catch the interest of a man she was interested in. Instead, she found herself entangled with Damien, who was undercover trying to discover and shut down a group of anarchists. She ends up compromised and in the crosshairs of the conspirators, who worry what she might have heard.
Damien is intent on his mission, with no plans to marry in the near future, but he won't let Emily suffer because of him. He steps up to marry her, in spite of the kink it puts in his plans. He finds it distressingly easy to play the part of the besotted fiance, and worries that his fascination will distract him from what he has to do. He is determined to stop the anarchists and keep Emily safe. I really liked the fact that Damien showed no resentment about having to marry Emily. In fact, he was quite comfortable with the idea and expected that they would have a real marriage right from the start. He may be a dangerous, confident operative but he is also astounded by Emily's ability to take everything in stride. I really liked the fact that he didn't treat her like an idiot but showed a lot of respect for her intelligence.
Emily has been a magnet for trouble most of her life. She has a tendency to get herself into awkward situations, but this time she's in real trouble. At first she's angry that Damien has spoiled her plans, but the effect he has on her soon drives those plans right out of her mind. She's smart enough to know that Damien is her best bet at staying alive, but thinking about the danger she's in is difficult when all she can think of is her upcoming marriage. She realized pretty quickly that what she felt for the other man was nothing when compared to what she feels for Damien. I liked the fact that she started the marriage with the full intention of making it work. I really enjoyed seeing her fully embrace everything that Damien was exposing her to.
The suspense itself started out strong, with Damien's undercover attempt to ferret out who the leader of the anarchists was. His fears for Emily and Iris seemed well-founded when the conspirators were so determined to track them down and kill them. I enjoyed the efforts that Damien and Emily, as well as Iris and Winthrop made to investigate at the house party, but they seemed pretty laid back for the importance of the mission. The final confrontation felt almost anti-climactic with its lack of intensity. I will admit that the leader was someone I did not suspect, so that was a pleasant surprise.