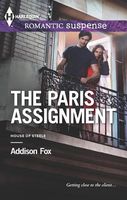 Series:
House of Steele
(Book 1)
"I DIDN'T HIRE YOU TO BE MY BODYGUARD."
It was obviously an inside job -- and security expert Campbell Steele figured he'd have to get very close to his new client, CEO Abigail McBane, to uncover the traitor. But when an electronic blip led to a bullet, he had to move fast….
Suddenly the commitment-shy expert is posing as Abby's lover and jetting off to a conference in Paris. The city of lovers should be the perfect cover to trap the enemy. As the stakes keep rising, they soon realize it isn't just her company the traitor wants, but Abby herself. And Campbell isn't about to lose what he's claimed as his own….
Very good start to the series. Abby is the CEO of a large telecommunications company. When someone breaches their security, she goes to her college friend Kenzie Steele for help. Kenzie puts her brother Campbell on the case. Campbell is a computer geek who is fantastic at what he does. He isn't thrilled about babysitting Abby, but the computer issues make it more interesting. But when the security problems escalate into physical danger to Abby, Campbell moves from geek to bodyguard.
I really liked both Campbell and Abby. Their common interest and expertise with computers helps them bond quickly, even as they try to resist the growing attraction between them. I loved some of the conversations between them as they dip into geek speak. I loved the way that Campbell and Abby clashed at the beginning, but got closer as their respect for each others' abilities grew.
Abby has been at the head of her company for a long time and trusts her employees. She isn't happy when Campbell suggests that her problems are an inside job. But as time goes on she can't deny that he may be right. In order to disguise his real purpose for being around, they put out that he is her boyfriend, which adds another layer to their interactions. She can't deny that she wants him, but she isn't very happy about it, until the threats escalate. Then Abby finds herself leaning on him in ways she hadn't with anyone else. She also discovers a previously unknown desire to have a permanent connection with someone, and her heart has decided on Campbell. He has made no secret of his resistance to any kind of commitment, so she thinks that it will go nowhere.
Campbell has always been more into computers than people, especially after losing a good friend when he was a teenager. He holds himself back as a way to protect himself. He's not happy about being assigned to take care of Abby, especially when his attraction to her starts to interfere with his concentration. When the threats against Abby escalate into the physical, he realizes that she has begun to mean more to him than just a job. He accepts his feelings for her pretty quickly, but has to convince Abby that they have a future together.
The suspense in the story was very well done and kept me hooked from the beginning. We meet the bad guy fairly early, but identity and motivations are revealed a little at a time. Campbell's assertion that it is an inside job is shown early, and that identity is pretty obvious. I really enjoyed the cat and mouse tactics as Campbell and Abby worked to find the culprit without tipping their hand as they got close.The final showdown was intense as Campbell tried to get to Abby in time.