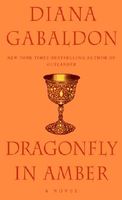 Series:
Outlander
(Book 2)
For twenty years Claire Randall has kept her secrets. But now she is returning with her grown daughter to Scotland's majestic mist-shrouded hills. Here Claire plans to reveal a truth as stunning as the events that gave it birth: about the mystery of an ancient circle of standing stones about a love that transcends the boundaries of time ...and about James Fraser, a Scottish warrior whose gallantry once drew a young Claire from the security of her century to the dangers of his ....
Now a legacy of blood and desire will test her beautiful copper-haired daughter, Brianna, as Claire's spellbinding journey of self-discovery continues in the intrigue-ridden Paris court of Charles Stuart in a race to thwart a doomed Highlands uprising ...and in a desperate fight to save both the child and the man she loves ....
Fantastic second book in the series. It starts with Claire back in the future, telling her daughter about what happened to her and the truth about her parentage. She has also come to Scotland to see if she can find out what happened to the people she knew, if they survived the Rising and its aftermath. In the process, Claire tells of what happened to her and Jamie after they left Scotland up until the beginning of the Battle of Culloden.
Jamie and Claire have settled into their marriage, with their love as strong as ever. Each of them has strengths and vulnerabilities that become part of their stories. Jamie has an honorable streak a mile wide that makes him want to save his family and countrymen from the looming disaster. It's hard for him to walk the fine line between honor and treason and it wears on him. Claire is deeply in love with Jamie, but still suffers from the guilt of feeling like she is betraying Frank. Trying to reconcile her love for Jamie with protecting Jack Randall so that it doesn't screw up her future with Frank is not easy.
With Claire's knowledge of the future, they go to France to try to stop Bonnie Prince Charlie from trying to take back the throne. The details of the political intrigue are fascinating and made me feel as if I was there. Claire also uses her healer abilities to work in a local charity hospital, giving more insight into the realities of life in the mid 1700s. I loved seeing Claire's strength of will and determination to make as much difference as she can. As they feel they are making progress and take a trip back to Scotland, fate intervenes and they end up on the wrong side after all. With Jamie's certainty that he won't survive Culloden, in order to protect Claire, he sends her back to Frank.
I love the rich historical details that are shown throughout the book. There are also some fun things that get worked into the story, such as Claire's explanation of what a "commando" is and what Jamie does with that knowledge. There is also a hilarious description of Jamie's venture into a brothel, a sausage, and a young French lad who becomes a big part of the story.
The depth of emotion throughout the book is amazing. Jamie's love for his family and his country is deep and his desire to save them influences everything he does. There is a feeling of fear throughout as he and Claire worry that they won't be able to stop the Rising. Claire's unhappiness and depression after the loss of her baby are deep, and the effect on her marriage was heartbreaking. But the deepest, most emotional event was as Jamie accepts what he sees as his fate, and begs Claire to return to the future so that he can be sure that she is safe.
I loved the sections in the present, as Claire tells her story. Her determination to discover the fates of her friends is intense. I loved Roger's fascination with her quest, and the lengths he goes to find out the answers. There is an intense twist to the story at the end that leads into the next book.