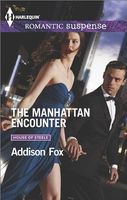 Series:
House of Steele
(Book 4)
Will the mighty Steele fall?
He'd faced down madmen with guns, hunted thieves and jumped off buildings for fun. So why is Liam Steele at his wit's end when Dr. Isabella Magnini needs his protection? The brilliant and beautiful scientist's work is revolutionary, and someone wants to keep her insights secret--no matter what it costs.
When the House of Steele comes together to protect Isabella, Liam realizes just how isolated he's truly become. And as he and Isabella dodge bullets, fires and even an invasion, he knows he's in more danger than ever. Because how will he ever let her go?
Fantastic conclusion to the series. Liam is assigned to protect Isabella by his grandfather. She has done some ground-breaking research and someone is trying to stop her from going public with it. It started lightly with someone searching her home and office, but the threats have become more physical.
Liam has never had trouble concentrating on his job before, but Isabella has really thrown him off his game. As the oldest in the family, after his parents' deaths Liam considered himself responsible for his siblings, even though they had their grandparents. He has also kept himself apart from everyone else, preferring to to get too close to anyone, which even bled over into staying away from his family as much as he could. The case with Isabella, however, requires that they all work together, and Liam begins to realize just how much he has missed his family. He has also become more emotionally invested in keeping Isabella safe.
Isabella has always had a brilliant mind. She has no family and has devoted all her time to her research, causing her to be isolated from other people too. Her mentor had left her a lot of money which she uses to continue her research into ways to cure disease using DNA manipulation. When the attacks begin, she realizes that her research can also be abused, and goes to the Steeles for help. She is surprised by her attraction to and fascination with Liam. She had never experienced feelings like that before. One of the things I liked best about her was her fantastic skills of observation. She saw beyond Liam's surface coolness to the man underneath. I loved the way she could call him out on his attempts to keep her at a distance and make him talk to her. I occasionally got frustrated with the way she felt responsible for all the bad things that happened, but that was the type of person she was.
I loved the way that they were open with each other. Though it started with Isabella, she dragged Liam into it also. She had no trouble speaking her mind, and if she didn't like something she said so. She also didn't let Liam hold back from her. Liam was often surprised by the things she said, but soon came to appreciated her bluntness.
The suspense part of the story was excellent and very well done. Isabella's research felt like it was something that could exist now, and the threats against her felt very realistic. It was interesting to see how the person(s) responsible carried out their actions and to hear their motivations. Just goes to show how selfish and warped people can be.
I also loved having the entire Steele family involved in the case, including the new members. The interactions among them were fascinating to see. I also loved Isabella's clear view of them all and their roles in the family.