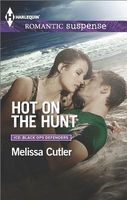 Series:
ICE: Black Ops Defenders
(Book 3)
This ex-agent has one last chance to mend a broken relationship--if he can protect her long enough
Burned black-ops agent Alicia Troy spent years plotting the perfect revenge on the man who left her for dead...until her plan is foiled by her ex-teammate--and ex-lover--who taught her the meaning of betrayal. She can't trust John Witter...so why can't she stop wanting him?
For John, it's a race to keep Alicia's intended victim safe long enough for the man to prove John's innocence, and it's a struggle to steer clear of the woman who believes he deceived her. But when their former agency turns on them, labeling them "armed and dangerous," John has a new mission: keep his woman alive.
Excellent conclusion to the trilogy. Almost two years earlier during a mission, Alicia was shot by another team member and nearly died. He was caught and imprisoned, but not before implicating another team member in the attack. Though his guilt was not proven, John lost his job with ICE and was told to leave the country. He and Alicia had also been lovers, but she believed in his betrayal and John has spent the last months trying to forget his broken heart.
When Rory escapes from prison, John goes after him, hoping to force him to confirm John's innocence. Alicia is also after Rory, with revenge on her mind. When the two meet, the old sparks start to fly but the trust necessary for a relationship just isn't there. Alicia still believes that John betrayed her, and John is still furious that she had no faith in his innocence.
The two of them begin an uneasy partnership as they try to locate Rory. Things are complicated by an approaching hurricane and agents from their former agency who are trying to capture or kill them. The action is nonstop from the beginning as John and Alicia try to get to Rory before he can disappear. There are times when it was hard to tell who were the good guys and who were the bad guys, even between John and Alicia. The final confrontation was incredible as the odds were stacked so high against Alicia and John. I loved the way it all worked out, with some help from a surprising quarter.
The rekindling of the romance between John and Alicia was hard won. Alicia had been recruited into the CIA and then ICE right out of high school. As a result, she had learned to never trust anyone. This made it easy for her to believe that John had betrayed her. Once she and John are working together again she slowly starts to realize that she had been wrong. She also realizes that she had never stopped loving him. But there are some things that she has done that are going to cause that love to be questioned and she's going to have to deal with the consequences.
John was a different kind of hero. Even though he has been a member of the ICE team, he was never the alpha guy that the others were. Thanks to Rory's lies, John has lost his sense of who he is. Finding out about Rory's escape gives him a new purpose and he is determined to get him to confess to his lies. It also puts him at cross purposes with Alicia, who just wants Rory dead. John still feels the hurt and sense of betrayal because of Alicia's refusal to believe in his innocence, but he also knows that he is still in love with her. He hopes that convincing her of it will enable them to start over. But that becomes harder when her actions are called into question and he has to decide if he can trust her.