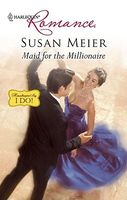 Series:
Housekeepers Say I Do
(Book 1)
Liz Harper's to-do list as boss of Happy Maids:
Drive to new client's palatial Miami beach house, armed with housekeeping kit
Try to stay upright when discovering he is none other than Cain Nestor -- reclusive millionaire and infuriatingly distant ex-husband...
Keep tight-lipped about the secret that made you walk out on your marriage
Let him see the new you -- successful business owner. Don't let on that he's making your heart beat twice as fast as normal!
Above all, remember to be professional -- you're not here for romance!
Good second chance story. Liz was surprised to see Cain was her new client. She hadn't seen him in the three years since their divorce and isn't happy to discover that she still has feelings for him. In the time since, Cain has realized how much he missed Liz and that he was responsible for end of their marriage. Now he has a chance to change that.
I loved seeing Liz and Cain get to know each other properly. Cain had married Liz because he wanted her and thought she'd do well as his wife. But he was a workaholic and spent little time at home with her. It got worse when his brother died and he closed himself off emotionally. Seeing her again reminded him of how he'd felt. He takes the chance he's been given and uses it as a way to spend time with her. Cain has always felt that he can't relate to people and keeps himself separate. Working with Liz he finds himself changing in unexpected ways. It was great to see him open up to Liz in ways he hadn't when they were married. He also discovered that he enjoyed helping people with Liz which made him feel better about himself. He also ended up in a great mentoring relationship with a teenaged boy, thanks to his work with Liz. His feelings for Liz kept growing but so did his fears that he had messed things up so badly she wouldn't want to try again.
Liz had still loved Cain when she left him, but she couldn't live with things the way they were. His distance and the fact that he was never home also made it harder for her to deal with her insecurities. She had grown up very poor and being thrown into Cain's wealthy lifestyle made her very uncomfortable. By the time she sees him again, Liz is the owner of a successful cleaning business. She has become much more confident in her abilities. She has also gotten involved in a charity that helps abused women start new lives. When he decides to get involved in the charity Liz worries about how to protect her heart from falling for him again. It is a losing battle as she witnesses the changes he goes through. She slowly realizes that it might be possible to have a happy future with the new Cain. All she has to do is be willing to open her heart again.
I liked seeing the way that both Cain and Liz realized that they had made mistakes in their marriage. They were also able to see that, thanks to the changes each of them had gone through, they were in a far better place to take a chance on each other again. Both learned the value of expressing their feelings and communicating with each other.
I also enjoyed seeing the work that Cain and Liz did for the charity. It was a good look at what goes on behind the scenes. I loved seeing Cain connect with the young man he was helping, and what a difference it made in both their lives.
Read in this edition.