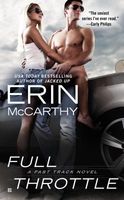 Series:
Fast Track
(Book 7)
Easing into the turns...
As one of only two girls on the tween racing circuit, Shawn Hamby has always run with a fast crowd. But now at thirty-two, she doesn't need to prove anything to anyone. And she definitely doesn't need a man bossing her around off of the track...
Putting the pedal to the metal...
But after a silly girls' night at a fetish club, Shawn can't get Rhett Ford out of her mind. He's younger than her, and he's her best friend's brother-in-law, which should be red flags. Rhett is looking for someone to lead in bed, but he can't imagine that Shawn would ever submit to him. Boldly surrendering is more her style. And with Rhett behind the wheel, it's going to be one wild ride...
Not my favorite of the series, but still good. Shawn meets Rhett during a night out with her friends, not knowing he's her best friend's brother-in-law. There is an instant attraction, but he's seven years younger than she is and that bothers her a little at first. But when she needs a husband fast, Rhett is the one she goes to. He agrees to marry her, but refuses the idea of a marriage of convenience. He wants Shawn and this is the perfect chance to have her.
Shawn is a business woman and independent. She needs Rhett in order to keep the race track, but isn't interested in anything more until her attraction to him takes off. She discovers that Rhett likes to be the boss in the bedroom and finds that she's okay with that. And while they started out putting a time limit on the marriage, Shawn starts thinking about what it would be like to stay married to him.
Rhett is the youngest of his family and spent a lot of time being bossed around by his sisters. As a result, he likes to have control where he can. He's an intense guy, not known for being light and charming, and finding a woman who can handle that intensity has been difficult. Shawn is mature enough to do so and Rhett realizes that she is perfect for him. He just has to convince her.
I really liked the way that Rhett realized his feelings so quickly and wanted to find a way to make the relationship permanent. He does seem to be something of a steamroller and doesn't pick up on the clues that, while she cares just as much as her does, Shawn is much warier about believing in a happy ending. I liked their honesty with each other and that they make the effort to really communicate. Rhett's youth does influence things at the end, when he seems to have an all or nothing attitude, without seeming to be willing to compromise. Fortunately, wiser heads have an influence and they are able to work things out.
The bedroom scenes are pretty intense and not really my cup of tea, but they worked for the story. I was happy to see Rhett not be a total ass. He did have a quick, emotional connection with Shawn that made their relationship more believable.