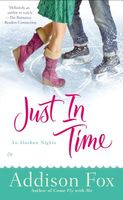 Series:
Alaskan Nights
(Book 3)
Sometimes your past is the only link to your future.
After a rejuvenating trip to Ireland, Avery Marks can't help her frustration with the pace of her life in Alaska. Back in the small town of Indigo--where everyone knows everyone else's business--Avery dreams of a bigger life. But with her ex-boyfriend back in town, it's hard to get the past out of her head.
Drafted by the NHL right out of high school, Roman Forsyth left behind the love of his life to follow his pro career. With an injury sidelining him, Roman isn't sure how much longer he'll be at the top of his game. He is sure that he wants Avery just as much as he ever did.
While Roman wants a chance to make things right, Avery isn't sure she can just forgive and forget. But when their long-buried passion sizzles back to life, they need to escape the watchful eyes of the rest of the town long enough to figure out if it's any harder to stay together than it's been to stay apart ...
Good book. After fourteen years Roman has come back to Indigo as he deals with an injury. This puts him back in the same town with his high school sweetheart, Avery. He had left her behind when he followed his dream, but has never forgotten her or their love. Avery has stayed mostly in their hometown, working at the hotel, and dreaming of more. She's never gotten over Roman, but isn't so sure that she wants to risk that much misery by getting involved with him again.
Roman and Avery had a complicated relationship. He hadn't asked her to go with him because he didn't want her to have to choose between him and her mother at that time, though he never told her that. Instead he left, just sending gifts back home. Now he's had a possibly career ending injury and has to decide what to do. He doesn't know who he is without being a hockey player, so he's going though some major confusion. It doesn't help that he hasn't told anyone about the injury and so has no one to talk to about it. He would like to pick back up with Avery, but her career is starting to take off and he can't see how they have any chance to be together.
Avery has spent years still loving Roman. She's just about at the point of trying to move on when he comes home and she realizes that she will always love him. But after seeing some more of the world, sh'es ready to spread her wings and see what else is out there. She'd like to see if she and Roman could be together, but he isn't showing any signs of wanting more than short term while he's home. She decides to take what she can get and see what happens from there.
I completely understood Avery's initial reluctance to get involved with Roman. She had so much to lose emotionally. I liked seeing her get to know the grown up Roman and how well they really got along. She could sense that there was something bothering him, but she couldn't get him to open up to her. I loved the confidence she had to go after her own dreams instead of waiting on him to say something. I liked how she stopped blaming him for what had happened and accepted that she made her own choices, and that she was making her own choices now.
Roman also has to accept that he made the choices he did for himself and stop pretending that he had done things that were best for her. Once he accepts that responsibility he can look at making other changes in his life. His insecurities about who he is outside of hockey are pretty sad. He can't see what a terrific person he really is, even when Avery tries to tell him. Keeping his injury secret from her is just one more thing that works against him.
I really wanted to smack them both and tell them to actually talk to each other. It was the only way for them to be able to find a future together. Fortunately, they figured it out before it was too late.
I loved being back in Indigo and seeing all the fantastic friendships. Avery and her friends were hilarious when they got together, as were Roman and his two buddies. It was fun seeing Roman's reactions to Walker's and Mick's new worlds. It was also fun to see his grandmother fall in love. Roman's attitude and reactions were hysterical and I loved seeing his grandmother call he out on them. I also enjoyed all the other wacky residents of the town.