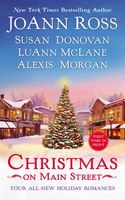 'Tis the season to fall in love in these four small towns. — —
Christmas in Shelter Bay by JoAnn Ross
Series: Shelter Bay (Book .5)
Kelli has long tried to keep her feelings for her friend Cole a secret. But when the local matchmakers conspire to send them to a secluded lakeside cabin, the two friends soon discover that a little love will keep them warm.
Loved finally getting to read Kelli and Cole's story. Kelli is Cole's best friend's little sister and was told long ago that she was off limits, but they have been friends. Kelli has been in love with Cole for years. Last Christmas when he was home on leave he showed her an engagement ring - and then proposed to someone else, breaking her heart. This year he is back home, the engagement long over, and realizing that it's Kelli he really wants. Not sure how to go about winning her, his grandmother sends him off to the family cabin to "plan his mission". Unknown to him, she has also suggested to Kelli that she go to the cabin to get away from the stress of being around Cole. When she arrives, they realize that they've been set up, but decide to go for it as a chance to repair their friendship. Of course, Cole also intends to lay siege to Kelli's heart.
I really enjoyed seeing the two of them together. Now that Cole has admitted his feelings to himself he just has to convince Kelli. The sparks between them are quite hot, and it was fun to see Cole use that heat. He's determined to be patient, so he works hard to keep it to just kisses at first, which drives Kelli nuts. Once they take that first step to be together things really take off between them.
Cole has also reached the point of having to decide if he's going to stay in the Marines or get out. Kelli senses that he has things that he is dealing with and has the love and patience to wait for him to open up to her about it. I really enjoyed the ending and their pranking of the matchmakers.
A Seaside Christmas by Susan Donovan
Series: Bayberry Island (Book .5)
TV producer Nathaniel Ravelle knows the Bayberry Island mermaid legend is a joke— how could a statue grant a wish for true love? But when a Christmas Nor-easter lands him in close quarters with local Annie Parker, they see magic at work in matters of the heart .
Fun story. Nat has been sent to Bayberry Island to scope out locations for an episode of the show Truly Weird, focusing on the mermaid legend of the island. He arrives in the middle of a storm and ends up slipping on the ice right in front of Annie's house and store. She gets him into the house - the description of that process is very funny - where she helps him recover from the fall.
I liked both Nat and Annie. Nat is pretty level headed and also jaded about all the so-called supernatural things he has encountered during his job. Ending up flat on his back, surrounded by old mermaids, is pretty confusing for him until he fully regains consciousness. At that point he is fascinated by Annie and very attracted to her.
Annie has been burned by love, so each summer she picks a good looking tourist to have a summer fling with, then sends him on his way at the end of the season, thus preserving her heart. The rest of the time she concentrates on her job of baking naughty mermaid treats and writing erotic mermaid romances. When Nat falls in front of her house, she takes him in. There's something about him that really appeals to her and that makes her very nervous.
I really enjoyed the banter between the two of them. And while the chemistry is explosive, I also enjoyed the fact that they actually spent a lot of time just talking to each other. They discovered that they had a lot in common, which made their mutual attraction even stronger. I loved seeing Annie read him some of her stories and also tell him the legend of the mermaid. The ending was very good.
What neither of them knows is that the mermaid ladies had done one of their ceremonies, asking the mermaid's help in finding a man for Annie. They didn't expect it to work so quickly and they promised each other they would never tell what they had done. These ladies were a hoot and I look forward to seeing more of them in later books.
Mistletoe on Main Street by LuAnn McLane
Series: Cricket Creek (Book 5.5)
Clint isn't sure how to rekindle his romance with high school sweetheart Ava—until his father bows out of playing Santa at the annual Cricket Creek holiday parade and Clint gets the chance to make this Christmas one to remember.
I liked this second chance story. Clint is back in town after fifteen years away and realizes that his feelings for Ava have never gone away. Ava is reluctant to trust her heart to him again. I really liked Clint, he was a sweetheart of a guy. He came back to town to help his dad who is having health issues. He isn't really sure how long he's going to stay until he sees Ava again and realizes just how much he's missed her. I loved their first meeting as they're playing Santa and Mrs Claus. Ava isn't ready to forgive him for never contacting her again. She still has feelings for him, but doesn't want to go through that pain again. Clint isn't going to give up, and his attempts to woo her are really sweet. It was great to see Ava take her friend's advice and not push away the chance to be happy. The ending was terrific. This is the first thing I've read by LuAnn, but it won't be the last.
The Christmas Gift by Alexis Morgan
Series: Snowberry Creek (Book 1.5)
Business is booming at Bridey Roke's pastry shop. Everyone in town stops in to sample her holiday treats. But in her spare moments, she's perfecting a special recipe to charm the handsome new neighbor—who has his own surprise gift for her come Christmas Eve!
Very sweet story. Bridey is very busy at her pastry shop, but it doesn't stop her from noticing the new customer who is spending a lot of time there. He doesn't say much but he makes a very definite impression on her. Seth has come to Snowberry Creek in search of some peace. He's a talented wood sculptor who has been suffering from a lack of inspiration. Being around Bridey gives him a different kind of feeling.
I loved both Bridey and Seth. Both of them sort of dance around each other at first, being cautious about getting involved with someone. Bridey has a bad marriage behind her, one that sucked the joy out of her until she got out of it and came home. Her ex also did a number on her self confidence. Seth has had problems with women who are more interested in what he is rather than who he is. He is also rather insecure around people because he occasionally has problems with stuttering.
Their romance is slow building as they take the time to get to know each other. I loved seeing Seth's happiness at having the chance to build Bridey's shelves for her. Having the time alone with her as he builds those shelves before the store opens gives them both the chance to get really comfortable with each other. I loved seeing Seth's inner sexiness start to come out as his feelings for Bridey grew. I also enjoyed seeing the way that Bridey used her baking as a way to reach out to Seth. She starts out a little hesitant, but the more she gets to know him the stronger her feelings get. I loved seeing her get her confidence back as Seth's attentions get more intense.
I loved seeing Seth come to her defense against her ex-husband's nastiness, even though it blew his secret before he had a chance to explain. I was happy to see that there wasn't too much heartache before Seth and Bridey were able to resolve their differences. The ending was really sweet.