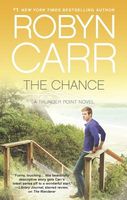 Series:
Thunder Point
(Book 4)
With its breathtaking vistas and down-to-earth people, Thunder Point is the perfect place for FBI agent Laine Carrington to recuperate from a gunshot wound and contemplate her future. The locals embraced Laine as one of their own after she risked her life to save a young girl from a dangerous cult. Knowing her wounds go beyond the physical, Laine hopes she'll fit in for a while and find her true self in a town that feels safe. She may even learn to open her heart to others, something an undercover agent has little time to indulge.
Eric Gentry is also new to Thunder Point. Although he's a man with a dark past, he's determined to put down roots and get to know the daughter he only recently discovered. When Laine and Eric meet, their attraction is obvious to everyone. But while the law enforcement agent and the reformed criminal want to make things work, their differences may run too deep…unless they take a chance on each other and find that deep and mysterious bond that belongs to those who choose love over fear.
Really good book. Laine first appeared in the previous book,
The Hero
, as the undercover FBI agent who helped Devon and others escape from the commune. She was shot during the operation and has returned to Thunder Point to recover. She had been put on desk duty which she hated, so she has taken a year's leave of absence to finish her recovery and decide what she wants to do now. Eric sold his business in Eugene and has moved to Thunder Point to be closer to his daughter. Neither is looking for a relationship, but the chemistry between them is too strong to ignore.
I loved both Laine and Eric. Laine is trying to figure out what she wants to do next. The undercover operation took a lot out of her besides the injury she sustained and she isn't sure that she wants to continue as an agent. She liked what she saw of Thunder Point and has gone there for her recovery time. It also gets her away from her father, who has always given her grief about her profession. She is drawn to Eric from the first time she met him, and she can see that he's interested too. I loved the way that she asked him out when he didn't move fast enough for her.
Eric is a pretty laid back kind of guy. After a less than stellar youth that earned him a stint in prison he has turned his life around. He spends most of his time building his new business and trying to spend time with his teenage daughter. He encounters Laine several times and is more attracted each time. He doesn't consider himself a good bet relationship wise, so he tries to keep his distance from Laine. That doesn't work, and they are soon deeply involved with each other.
I really liked to developing romance between them. They are honest with each other about their expectations, which reduces their chances of conflict. Those that they do have they are able to resolve fairly easily by talking things out. She is surprised by his prison record, but she doesn't let it stop her from getting to know Eric better. Laine's job as an FBI agent surprises Eric, and he has a hard time at first accepting that she constantly puts herself into dangerous situations. I loved her demonstration of how well she can take care of herself and Eric's reaction to it. It was a great illustration of how well the two of them suit each other. Though they started out as simply two adults enjoying each other's company, they soon found themselves in a much deeper relationship than they expected. I loved Eric's support of Laine as she dealt with her issues with her father. Laine's difficult relationship with her father takes an interesting turn when he shows up in Thunder Point. When those issues pulled them apart, their unhappiness at being separated was obvious. Eric worries that Laine won't be able to return to Thunder Point and he can't leave as he gets to spend time with his daughter. I was really rooting for them to get their HEA, and loved the way it worked out at the end.
I loved seeing Laine's relationships with various members of her family. As her relationship with Eric changes her, her relationships with her family change also. I loved seeing the discussions she had with her sister-in-law as they finally got to know each other. The changes she went through also affected the way she looked at her father and their relationship. Her pain as she deals with him is heartbreaking but also makes the resolution of that story line very satisfying.
There are also two wonderful side stories. An old friend and employee of Eric's shows up to work with him and takes a liking to Ray Anne. She has always been an interesting character with her flamboyant clothing and direct attitude. She and Al hit it off in an unexpected way, and I really enjoyed seeing the way she changes around him. Al is an interesting guy who has some issues that cause him some insecurity around her. Al also takes an interest in helping a teenage employee of Eric's who is dealing with some major family issues. He does what he feels he can, but those same issues make him feel that he can't do more. I loved seeing him finally get the courage to reach out for a second chance.