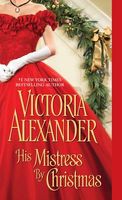 Series:
Sinful Family Secrets
(Book 2)
For three years, Lady Veronica Smithson has been perfectly happy as a widow -- and thoroughly independent. Still, the right gentleman could provide the benefits of marriage without the tedious restrictions. And in Sir Sebastian Hadley-Attwater, renowned explorer and rogue, Veronica is sure she has found him.
Sebastian will come into his inheritance in a matter of weeks -- if his family deems him responsible enough. There's no better way to prove his maturity than with a wife. But though Veronica will share his bed, she refuses to marry. However, Sebastian has a plan: An intimate sojourn at his new country house will surely change Veronica's mind. For Sebastian never takes no for an answer. And he intends to persuade his Christmas mistress that they belong together -- in this, and every season to come...
What a fun book. Both Veronica and Sebastian find themselves at crossroads in their lives. They meet at the intersection and decide that they'd like to continue together. The problem is that they are looking down different roads. Both of them are accustomed to getting what they want and seeing them each try to convince the other makes for a really fun time.
Veronica has been a widow for three years. She had loved her husband and they had a good life together, but she's ready to move on. She's gotten used to being independent and having control of her own life. She's not interested in marrying and turning that control over to a man. But she admits to being lonely for the company of a man and decides to look for one that can provide what she wants. When she meets Sebastian, she thinks he would be perfect for her. After all, he's known as quite the ladies' man and has shown no signs of wanting to settle down.
Sebastian is almost thirty-three years old. He has been traveling the world for quite a few years and has made quite a name for himself with his explorations and the books he has written, is good looking and wealthy too. But he's getting a little tired of living out of his trunks and is looking to spend more time at home. He has bought a house and is thinking that it might also be time to start looking for a wife. When he sees Veronica at one of his lectures he is lost. She is exactly what he is looking for. Besides being beautiful, she is intelligent and has a sense of humor to match his own. He also senses that she is just as interested in him. He's so sure of where they are that he tells his sisters he expects to be married by Christmas.
But things don't quite go as he planned. When he proposes to Veronica he is stunned to find out she doesn't want to marry him, only be his mistress. That's not what he wants and he refuses to accept defeat. So he invites her to spend Christmas at his new home, as his mistress, but has every intention of convincing her to be his wife instead.
I loved the two of them together. They are smart, they like many of the same things, and they both have a great sense of fun. Some of their conversations are hilariously funny as are their observations of the people and events around them. Sebastian loves Veronica just the way she is, independence and direct speech and all. He doesn't understand why she is so against marriage. Veronica enjoys being able to be herself. She fears that by marrying that sense of self would be lost under the expectations of what a wife should be. She intends that as a mistress she would have all the benefits of being a wife without the pitfalls. And she doesn't intend to allow herself to fall in love with Sebastian as she sees that as the first step to that loss of self.
When they get to his home and start to settle in things are looking good for them to start working on their differences. Then things get really complicated. Sebastian's two sisters show up, uninvited, to spend Christmas with Sebastian and his new wife, only to discover they aren't married. They are horrified, not just because of the circumstances, but also because they told the rest of the family about his "marriage" and they are ALL coming for Christmas. Sebastian has been trying to show his older brothers that he has changed and become a mature and responsible man. He has always felt that he was a disappointment to his family because he has not led a more traditional life. Now, thanks to his sisters, he's going to look even worse. He and his sisters try to keep them from finding out, but don't tell Veronica that the family thinks they are married. When she finds out the truth she isn't happy, but she cares for Sebastian (still doesn't admit to herself that she loves him) so she goes along with the deception for now. Things get even crazier when her family shows up.
In the midst of all the family togetherness, as she is treated as Sebastian's wife, Veronica begins to realize that all that independence also has a downside. It means that she could still end up alone. It means giving up on the idea of having children. It means that she could lose Sebastian to someone else. A long conversation with her father, aunt and grandmother shows her that independence can also mean great loneliness and she starts to reconsider her stance on marriage. Just as it looks like things will finally work out for them, there is a great misunderstanding about Sebastian's inheritance, which sends Veronica running back to London. Though initially both are hurt and angry, I loved that their heads and their hearts soon show them that they belong together. I loved the final scene at the birthday dinner and Veronica's passionate defense of Sebastian to his family and the resulting clearing up of many misconceptions among them all.
Some of my favorite things in the book are the situations that the characters get into. The scene at the beginning when Sebastian has been cornered by Veronica's aunt about allowing women in the Explorer's Club was fun, as he tried to be polite in his disagreement, and then to sneak away as she got involved in the argument with another member. His encounter with Veronica there was the beginning of their fascination with each other. The entire Christmas event, with all the efforts to keep the secret was at times hilariously funny or totally sweet. The whole scene with Veronica and her family was heartwarming as so many things became clear to her, and her family's love and support boosted her up. One of my favorite scenes was Christmas Eve when Sebastian goes knocking on her door after spending the evening drinking. He was so funny and so adorable. There are also some great scenes with Veronica's friend Portia and also with Sebastian's friend Sinclair. I really hope that there will be books for them and also Sebastian's sister Bianca.