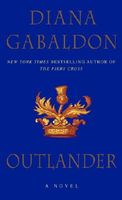 Series:
Outlander
(Book 1)
In 1945, Claire Randall, a former combat nurse, is back from the war and reunited with her husband on a second honeymoon -- when she innocently touches a boulder in one of the ancient stone circles that dot the British Isles. Suddenly she is a Sassenach -- an "outlander" -- in a Scotland torn by war and raiding border clans in the year of our Lord... 1743.
Hurled back in time by forces she cannot understand, Claire's destiny is soon inextricably intertwined with Clan MacKenzie and the forbidding Castle Leoch. She is catapulted without warning into the intrigues of lairds and spies that may threaten her life... and shatter her heart. For here, James Fraser, a gallant young Scots warrior, shows her a passion so fierce and a love so absolute that Claire becomes a woman torn between fidelity and desire... and between two vastly different men in two irreconcilable lives...
I have reread this book for three main reasons. First, I wanted the story fresh in my mind when the Starz series starts in August. Second, my husband and I are going to Scotland this summer and will be visiting some of the places in the book and the film locations. Third, the story itself is so incredibly well done that it is worth reading over. There are always things that I didn't notice or remember from previous readings. This is an incredibly emotional book, with a rollercoaster of feelings - laughter, tears, joy, fear, confusion, pain, and most of all love.
Claire is the heroine, through whose eyes the story is told. She and her husband are on a second honeymoon in Scotland, getting to know each other again after years apart during the war. He is into genealogy and spends a lot of time researching his family. Claire is interested in the healing properties of plants and during a search for a rare one ends up in a local stone circle. She is thrown back in time to 1743 when she touches one of the stones. At first she thinks she is caught up in some kind of reenactment, but soon discovers she really is in 1743.
Claire is an amazingly strong and adaptable woman. Thanks to being raised by her archaeologist uncle, she is accustomed to primitive living and adjusts pretty quickly to her surroundings. She is also very independent, which gets her into hot water several times, as she pursues her own desire to find a way back to her own time. She is a pretty good judge of character and adept at reading people which also helps in her adjustment. She also has no problem speaking her mind. Her medical training comes in handy as she helps treat various members of the clan with whom she is living. One of them is Jamie Fraser, a handsome young Scot who seems to have some secrets of his own. Over the course of the first few weeks she is there, she and Jamie become friends. She is also attracted to him, but as she considers herself married (even though her husband hasn't been born yet) she does nothing about it.
Jamie is a fantastic hero. He is honorable, intelligent, strong mentally and physically. He has been through some incredibly bad times, leaving him with both physical and mental scars, but has also retained his sense of humor and humanity. He is tough on the outside, but has a kind and sensitive soul. He is a keen observer of people. He is drawn to Claire, her beauty and her forthright personality.
The two of them together make an amazing couple. They start out with a strong friendship and a pledge of honesty between them. When they are forced to marry to keep Claire safe it is the beginning of a romance for the ages. Jamie's feelings for Claire are pretty clear from the beginning and only get stronger. Claire takes a bit longer to come to terms with her feelings because of the existence of her first husband. Once she accepts her feelings, the love between them only gets stronger. That love has to get them through several dark periods as outside forces work to tear them apart. There are also some clashes between Jamie and Claire when her 20th century outlook causes her to do things that put her in danger and she has to deal with the consequences. Those consequences are accurate for the time period, but can be a bit hard for a modern reader to accept. That same outlook and independence makes her a strong fighter when it comes to saving Jamie's life on at least two occasions.
The setting of the years before the Jacobite Rising emphasizes the dangers that Claire and Jamie face. Jamie has a sadistic British captain who has it in for him. There are several encounters with him that show just how evil he is, including a very bad scene at the end of the book. An added twist to the story is that this man is the ancestor, and lookalike, of Claire's husband Frank. The daily life of the people is a hard one, not without dangers of its own, including an accusation of witchcraft that nearly costs Claire her life. There is also the fact that Scotland is basically an occupied country, and there are encounters of various intensities between the Scots and the British soldiers.
The secondary characters are all as well drawn and complex as Jamie and Claire themselves. Each one has an important part of the story. Colum and Dougal show the complexity of dealing with the politics of the time while trying to keep their people safe. Jamie's sister Jenny shows the importance that Jamie places on his family and his need to protect them. Their actions on his return home also show a great deal about their characters, as well as providing a bit of comic relief. There are also other characters that show up for brief periods, but whose presence or actions add another layer to what we know.
One of the best things about the book is the richness of the detail. Everything from the food eaten and clothes worn to the descriptions of the prisons has been painstakingly researched and it shows. It is easy to get completely immersed in the story.