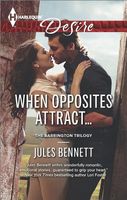 Series:
Barrington Trilogy
(Book 1)
"When I want something, I find a way to make it mine."
After a near-fatal accident, Hollywood hotshot Grant Carter never imagined returning to the equestrian world. But producing a movie about a racing dynasty means he has no choice. Luckily Tessa Barrington, star jockey, provides the distraction he needs--feisty attitude, stunning looks...and a surprising innocence he can't resist.
Tessa won't give herself to just any man, especially a smooth-talking player like Grant. Once filming wraps, how can she trust he'll stick around? He's already keeping secrets. Besides, Tessa has her eye on bigger prizes...unless falling in love is the biggest prize of all, for both of them.
Another terrific movie-world story from Jules Bennett. This time we have Grant Carter, who is co-producing a movie with Bronson Dane (
Caught in the Spotlight
) and Anthony Price (
Whatever the Price
). Being back in the equestrian world is hard on him, but if he wants his chance he has to do it. Meeting Tessa helps get his mind off his issues there, but opens up a whole different set of problems. Tessa isn't interested in getting involved with Grant. She's too intent on her own dreams, plus she just ended a relationship with another charmer.
I admit it took me a few chapters to warm up to Grant. He has enough of a reputation that there is a clause written into his contract that forbids him from getting involved with anyone involved in the movie. But the first thing he does when he gets there is hit on Tessa, ignoring her when she tells him she's not interested. Tessa is in the middle of training for the racing season and has no time to waste on a guy like Grant. Though she can't deny the attraction she feels for him, she's very wary of getting involved.
Grant and Tessa are extremely different. Thanks to his work and the past he is running from, Grant is very much a city oriented man. Tessa knows this about him (I love the way she calls him Slick). He also carries a tremendous amount of guilt over something that happened years earlier. That event affects his relationship with Tessa as he tries to deal with what she does. As his feelings for her grow, he has to face his past or risk losing her. He also has to deal with that contract clause, which forces the two of them to keep their relationship secret. I loved seeing some of the things that Grant did for Tessa as he got to know her better. There were times when he was really sweet.
Tessa is a country girl. Nothing makes her happier than being out on the track with her horses or riding across their land. She'd had a relationship with a man who was more interested in what she could do for him than in who she was. He had tried to make her change to suit what he needed. When she met Grant she didn't want to get involved with another city guy. She tries to fight her attraction to Grant, but it's just too strong. She knows he won't be sticking around after the movie is done but she's willing to risk her heart. She can tell that there is something bothering him, but he resists opening up to her. Once he does, she knows what is driving him and she doesn't want it to come between them, but it does.
Grant's emotions during those later scenes were intense and seeing what he went through was heart wrenching. It really made me root for him getting everything he wanted. I loved the support he got from Bronson and Anthony, and the part they played in the final scene.
In the "Dear Reader" letter at the beginning, Jules alludes to a big surprise in the third book. There is some foreshadowing of it in this book. I have a suspicion and I am looking forward to seeing if I am right.