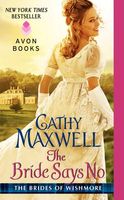 Series:
Brides of Wishmore
(Book 1)
What happens when a bride says no?
He is the bastard son of a duke, arrogant, handsome, a little bit dangerous, and, of course, one of the most sought-after bachelors in London. He is also about to be publically jilted by some chit of a girl Blake Stephens' pride isn't about to let him be humiliated, so he charges after his bride to the wilds of Scotland, determined to bring her to the altar.
What happens when the heart says yes?
He is promised to one woman, but discovers his soul stirred by . . . the chit's sister Lady Aileen Davidson's reputation was ruined ages ago, which is why she's buried herself in the country, but her fiery spirit and bold beauty threaten to bring Blake to his knees, making him wonder if he has proposed to the wrong lass.
And now he must make a choice: marry for honor . . . or marry for love?
Very complicated relationships in this story. Aileen left home with high hopes of finding a man to love and who would love her. Instead, her father married her to a man who turned out to be cruel and abusive. She faked an affair in order to obtain a divorce, and is now back in Scotland living a quiet life. She has no intention of ever getting involved with a man again. Meanwhile, her younger half sister went to London and is engaged to the wealthy bastard son of a duke. Three days before the wedding, Tara shows up in Scotland, having fled in order to take back up with the horse trainer she had rejected three years earlier. But Ruary has moved on and is engaged to another woman. The next day, their father and her fiance show up, claiming that the marriage is still on. Blake isn't about to let himself be humiliated by Tara. But he soon finds himself far more interested in Aileen than in Tara.
So we have two love triangles going on here. There is the one involving Tara, Ruary and his fiancee Jane. There is also a conflict with Tara, Blake and Aileen. The common denominator of course, is Tara. She shows up expecting that the man she had rejected will be ready to take her back, and is surprised to find out that he isn't. She's not at all happy to find there is a rival to her getting what she wants. Ruary is surprised to see her, but not willing to give up Jane. He does seem to waffle a bit at a couple points, but his intentions stay true, even when Tara succeeds at making trouble. Tara doesn't really want to marry Blake, but she's not going to give up the bird she has in her hand until she can catch the one in the bush.
Blake has spent a long time trying to get the approval of his father, and marrying Tara seems to be doing the job. As a bastard, he's always felt a lot like he was on the outside looking in, but his marriage could open doors for him. He doesn't love Tara, but figures they'll do okay together. He is surprised by his reaction to Tara's sister, who challenges the way that things are done. The sparks between them are instant, but neither is willing to be dishonorable to Tara. Spending time together brings them closer until they can't help but react to their feelings. They want to be together, but Tara won't give up her claim on Blake, even though they've agreed they're not in love, and Blake can't honorably call it off himself.
Aileen is the type of person who takes care of everyone else before seeing to her own needs. She had done what her father wanted and ended up in a miserable marriage. She's not happy about the reputation she now has, but is willing to live with it. When Tara shows up, Aileen is determined that she won't be forced into marriage the way she was. Though she does not approve of what Tara has done and what her plans are, she will stand up for her right to choose. She puts up a great argument to her father and Blake, but is floored when Tara suddenly announces she will go through with the wedding. Aileen tries to talk to Blake, but he is uncooperative. She also discovers that she is attracted to him, but as he is engaged to her sister, she won't do anything about it. That's hard to maintain as she and Blake discover how much they have in common and the attraction starts to heat up. By the time that they realize they are in love the wedding is only days away and Tara isn't budging.
Tara's selfishness is about to ruin the lives of several people. The way she chases Ruary has caused problems between him and Jane. Ruary is slightly tempted by Tara, but realizes that the one he really wants is Jane. But by that time Tara's antics have sent Jane running and Ruary has to decide if he is going to fight for her. I enjoyed seeing what he did and how his story turned out. Once Tara discovers that Ruary is no longer an option she is even more determined to hang on to Blake. I really wanted to shake her and then lock her in her room till she grows up. I loved seeing her cousin Sabrina tell her just what a selfish brat she is. It begins to open her eyes a bit as she takes a good look at her life. As her wedding day dawns, Tara has to decide what she's going to do.
While I understood Aileen and Blake's decisions to do the honorable thing, I really wanted to smack them both. Doing the honorable thing isn't necessarily the right thing and three lives would be wrecked by it. They really needed to take charge of their own destinies. I did enjoy the ending and loved seeing what Tara did at the church. I'm looking forward to her story and seeing what changes she goes through.