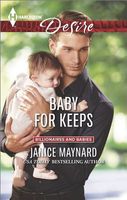 Series:
Kavanaughs of Silver Glen
(Book 2)
Billionaires and Babies (Book 46)
A woman and baby walk into a bar...
It might sound like a joke, but saloon owner Dylan Kavanagh knows it's all too serious. Struggling single mom Mia Larin needs him. She helped him when they were young, and the bachelor means to do everything in his power to protect Mia and her child. Giving her a job, a room under his own roof, is easy. Keeping it all about business isn't....
Dylan is a successful, eligible catch, but are Mia's feelings just a case of hero worship? Or will she still need him, still want him, once her circumstances change?
Terrific story. I really liked both Dylan and Mia. There's great chemistry between them, but there's also the ability to see past their issues to the real person. Both had insecurities that kept them from feeling that they were worth loving. Dylan was surprised to see Mia and her infant daughter in his bar. He hadn't expected to ever see her again. Mia had been his tutor their senior year in high school. She was super intelligent and he had dyslexia, but they had connected. Dylan is the second oldest Kavanaugh son after Liam (
A Not-So-Innocent Seduction
). Liam had always done well in school with no apparent effort, which made Dylan feel like a failure with his inability to do well. So he cultivated a bad boy image, giving the impression he didn't care. Years later he has used his people skills to build a very successful business for himself. Seeing Mia again brings back some of those high school memories, including the crush he had on her and the less than pleasant way he had treated her. Finding out that she's jobless, he offers her the job of doing the books for his business while she searches for a job in her own field. He also invites her and her baby to stay with him. Dylan discovers that his attraction to her now is far stronger than it was then. He starts to think about what it would be like to have them permanently in his life. But he still has insecurities about his learning problems that had made him swear he would never have kids, because he didn't want a child of his to suffer like he had. Plus he still feels the gulf between his and Mia's abilities and doesn't feel like he is worthy of someone that smart.
Mia had had a huge crush on Dylan when they were in school. She never minded helping him with his work, and did her best to try to show him that he wasn't stupid the way he claimed. Though they were in the same grade, Mia was younger because she had skipped grades. She never felt like she fit in and suffered from a lot of teasing/bullying. After leaving Silver Glen for college, she ended up as a medical researcher. She still never felt comfortable in social situations and relationships never really worked out. She got tired of waiting for Mr Right and decided to have a baby on her own, starting the family that she craved for herself. When she lost her job she took the time to go to Silver Glen to see how Dylan was doing and was happy to see how well things were going for him. When he offered her a job to do while she looked for work she was happy to take it. She didn't expect to end up sharing his house with him and finding that the old attraction was still there. She takes a chance and lets him know of that attraction, even though she has low confidence in her appeal. Even though there's nothing for her career wise in Silver Glen, the more time she spends with Dylan the more she wants to stay.
Dylan and Mia do a fantastic job of showing each other how wrong their self doubts are, but neither has an easy time actually believing it. Dylan is still fighting those demons from school, to the point that he pushes Mia away, believing she is better off away from him. Mia has trouble believing that he could really want someone like her for very long, but loves him anyway and is devastated by his actions. It takes awhile for Dylan to realize what an idiot he was, but I loved seeing him finally get it. There was a pretty sweet twist at the end that just added to the story.