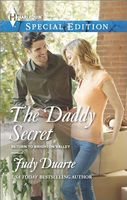 Series:
Return to Brighton Valley
(Book 1)
When Mallory Dickinson comes home with the son she gave up for adoption at seventeen, she knows she has to face her past. Ten years ago, she fell hard for Rick Martinez. The irresistible Brighton Valley troublemaker with a capital T is now the town's beloved vet. But is he ready to be a father?
When Rick finds out Mallory's planning to raise their child -- the son he never met -- he knows this is their second chance. But how long can he keep his true identity a secret from his son…when every day brings him closer to Mallory and the boy who looks just like him? It's time for this rebel with a cause to prove he's got what it takes to become the family man he's always wanted to be.
Good book. Mallory has come back to town after ten years away in order to take care of her grandfather. With her is her nine year old son, who she gave up for adoption but is now back with her. She doesn't expect to see Lucas's father almost as soon as she arrives. They had been in love when they were teens, but parted when she got pregnant. She moved away to have the baby and stay near his adoptive parents, while Rick stayed in Brighton Valley. Now he has a chance to get to know his son and rekindle his romance with Mallory.
I liked both Rick and Mallory. Despite their breakup all those years ago they weren't mean or nasty to each other when they were reunited. When Rick sees their son for the first time and figures out who he is, Mallory knows she has to come clean with him. The story behind how Lucas ended up back with her is complicated but still believable. She's nervous about it because she's still getting used to being a parent and doesn't want to make things harder for Lucas. She also discovers that Rick has changed a lot from the rather wild rebel he used to be, though her feelings haven't.
Rick is stunned to see Mallory back in Brighton Valley. Besides being deeply in love with her back when they were teens, she had been the only one who seemed to think he was a worthwhile person. When she left Brighton Valley he went down a wrong road for awhile before finding his way back. Now he's a respected veterinarian and community member. Finding out about Lucas causes him some heartache because of all the years he has missed. But he also worries about whether he would be a good father because he didn't have a good role model for it. I loved seeing how good he was with Lucas right from the beginning. Rick also realizes very quickly that he still cares for Mallory, but has no idea if there's any chance for them to have a future.
I really liked the way that Rick and Mallory worked together to make sure that they were doing what Lucas needed. Even if they were having issues themselves, he came first. Working together for Lucas also gave them a chance to get to know each other again and deal with their pasts. Rick also had to overcome some of those old feelings of inferiority in order to fight for Mallory.
I had a lot of fun reading about Buddy the dog and Lucas. Buddy reminded me of the dogs I've had and how adorable they can be even when you're mad at them. I also liked seeing Lucas's attempts to bring his parents together. The part with the email he sent was pretty funny.