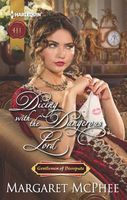 Series:
Gentlemen of Disrepute
(Book 4)
SLEEPING WITH THE ENEMY
Venetia Fox is London's most sought-after actress, darling of the demimonde and every nobleman's desire. But she's about to face her toughest role yet -- seducing a confession from the devilishly handsome and very dangerous Lord Linwood to bring her father's murderer to justice.
She might have the whole of London fooled, but Linwood can see through Venetia's ardent attempts to persuade him to open up. His past is murky, but he's no criminal. Her interest in him has Linwood intrigued -- he might just have to play Miss Fox at her own seductive game….
Good book. Venetia is on a mission. She needs to get close to Linwood and find a way to get the information she needs to accuse him of her father's murder. As a skilled actress it shouldn't be too difficult. She doesn't plan on the intense attraction she feels for him when they meet in person. Linwood can tell that she's up to something, he just doesn't know what it is. But he's willing to go along with it to find out.
I liked both Venetia and Linwood. She is a very strong and determined woman. Following her half brother's instructions she plans to get to know Linwood well enough for him to talk about what he had done. From the beginning she has her assumptions about his character, but when she meets him there is a connection she doesn't understand. How can she be attracted to the man who killed her father? There are times that she can see the ruthless, dangerous man she's been told about, but at others he's unexpectedly caring and compassionate. The closer she gets to him the more conflicted she is. Sometimes she's certain he's innocent of the accusations, but then something will happen to make her doubt. As the days go on, her heart gets more involved. She has secrets that make any chance of a relationship with him very complicated.
Linwood is a man who is very calm and controlled on the surface. That calmness is tested when he meets Venetia. He can see her interest in him, but he also feels that there is more to it than just attraction. So he's willing to play along until he can find out what it is. The more time he spends with her, the more he discovers that she is very different than what most people see. The seductive actress is still there, but underneath he discovers a kindhearted and caring woman. He finds himself more and more fascinated by her. Finding out what she's looking for puts them at odds, because he has secrets of his own he has to keep.
The mystery in this story was quite well done. It is a continuation of the book
His Mask of Retribution
. Venetia has been given this mission by her half brother who is the one who says there is a witness to Linwood leaving the house after the duke's death. While she didn't like her father at all because of how he treated people, he was still her father. Linwood knows what happened that night but in order to protect others he will say nothing in order to protect others. There are various clues along the way that all may not be exactly as it seems. There are several interesting twists before the truth is revealed.
I enjoyed the development of their relationship as it builds slowly. Both fight their feelings as they try to reconcile them with what they think they know about the other. I will say that I got very angry at Venetia toward the end when she did something incredibly terrible to Linwood. She allows her faith in him to be shaken twice, though at least the second time she actually waited for an explanation. She does come through for him when he needs her most.