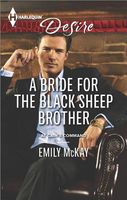 Series:
At Cain's Command
(Book 3)
Courted by a Cain
Cooper Larson doesn't care about finding Hollister Cain's long-lost daughter, even though a huge inheritance hangs in the balance. As Hollister's illegitimate son, the renegade snowboarder broke away and made his own millions long ago. So when his former sister-in-law Portia Callahan insists she's spotted the missing Cain heiress and solicits his aid, it isn't money that motivates him. It's his long-forbidden hunger for Portia. So he agrees to help if she'll collaborate on an event to finance his latest venture. With Portia finally within reach, he quickly melts the cool society princess's resistance...but will the barriers that kept him a black sheep before get the better of him now?
Portia was married to Dalton Cain for ten years. Even though they are divorced now, she is still friends with the family. She is also aware of the search for the missing illegitimate daughter. When she sees a girl she thinks could be the missing heiress, she goes to Cooper for help in finding her. She figures that he would be the right person to help the girl adjust to the news. Cooper really doesn't care whether the girl is found or not. He's made his own life separate from the Cains and is happy that way. The only thing he ever wanted from them had already belonged to Dalton. When Portia comes to him for help, he sees it as the perfect opportunity to feed that hunger, so he proposes a trade of her help for his.
I liked both Cooper and Portia. He had been attracted to Portia since before she married Dalton, and dealt with it by avoiding being around her during her marriage. Now that she has come to him, he looks on it as a chance to have what he had wanted for so long. He has never committed to anyone for longer than a couple months and figures this will be the same type of short but intense affair. He doesn't expect to find himself wanting more than just the physical connection. But while she's off working on his project all the contact they have is by phone and he discovers just how easy she is to talk to. He finds himself thinking about her more often and wanting to be with her instead of doing the work he loves. The level of intensity scares him because he had seen the same thing in his mother's feelings for his father and it had only brought her a lifetime of misery. He also doesn't see himself as good enough for her. He fights the idea of falling for her but it's a losing battle. Portia also forces him to face his feelings about his family. He's always kept himself apart from his brothers, never feeling like he fit in. She makes him see that he needs them in his life. I loved seeing Dalton be the one to show Cooper the error of his ways regarding Portia.
Portia is a sensitive and caring woman that can be impulsive too. She tries very hard to control that weakness. But when she see a girl that looks enough like the Cains that she's sure she is the missing heiress she wants to find her. She also wants the girl protected because she knows that trying to fit in with that family is difficult. She thinks that Cooper is the best one to help because he started as an outsider also. The only way she can convince him to help is to help him sell his hotel project. She doesn't expect the intense attraction that hits her and tries to fight it. Being with the man who was her brother-in-law at one time seems a little weird to her, but she can't deny her growing feelings for him. She had only agreed to a short term no strings fling with him and realizes that to continue that way will only make her miserable. I liked seeing her stand firm on what she wanted for her life.
I loved the ending and seeing Cooper finally open up to Portia about his feelings. Her love for him is already having an effect on his outlook. There was a little bit included in what he said about his mother that pertained to the search for his sister. It's still left hanging, so I hope the sister's book comes out soon. After that little glimpse of her at the beginning of the book I really want to know her story.