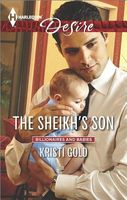 Series:
Bajul
(Book 3)
Billionaires and Babies
(Book 47)
Her sheikh, her prince...her pretend husband?
Prince Adan Mehdi isn't normally one to back off from a beautiful woman, but there's something so pure about American heiress Piper McAdams that it seems like the honorable thing to do. Piper believes in his good intentions until his supermodel ex shows up with their baby Still, Piper agrees to show Adan the parenting ropes and pretend to be his wife until custody with his ex is settled. But playing royal house tests the prince's resolve, and soon things get steamier than either of them imagined. Could a real white wedding be in their future?
I have been looking forward to Adan's story since reading his brothers' and this did not disappoint. He has been very good at playing the playboy jet jockey, but in this book he is trying to repair his reputation and show his brothers a more responsible side. When he meets Piper he is immediately attracted to her, but he's trying to behave himself. After finding out that she is on her way to his country he invites her to spend time with him. Adan is used to people knowing who he is, so when Piper doesn't he decides not to tell her right away. He really enjoys be treated as a normal person and waits as long as he can before telling her.
Piper noticed Adan as soon as she saw him, but didn't expect a man like him to be interested in her. She was surprised by his advances and very attracted to him. She's ready to pursue that attraction, but Adan seems a bit reluctant. When she finds out who he is she wonders if she can trust him, but the attraction is still pulling at her.
Just as they get to Bajul and arrive at Adan's home, he gets quite a surprise. His ex girlfriend shows up with a baby she says is his and turns it over to him. Adan quickly accepts the baby as his, but is a bit out of his depth in caring for him, so Piper offers to help. When they are spotted by reporters, they claim the baby is Piper's and that they are married in order to keep the truth quiet until Adan works out custody.
Adan comes to care for Piper very quickly, but believes that he is unable to sustain a long term relationship with anyone. He has spent most of his life believing that he is the product of an affair his mother had, and that his father didn't want him around because of that. It has affected the way that he looks at relationships and love. He dreams about a future with her, but his fears cause him to push her away. And when she gets involved in the revelation of a long term secret he doesn't take it well. It takes some straight talk from his former nanny for him to see the truth.
Piper falls for Adan even though he has made it clear that he doesn't do long term relationships. As he talks about his past, she sees the hurt he still carries from his childhood. When she discovers a long held secret she knows that he has to be told, even though it may cause her some problems. She is motivated by some issues with her mother. Those same issues also affect the way she looks at baby Sam and his situation. She feels that she and Adan could have a great life together if only he would believe it too. I loved the way that she took the risk and told him how she felt.
One of my favorite things about this book was seeing Adan with baby Sam. Even though he is nervous, he jumps right in to take care of Sam himself. I especially loved the image of the two of them asleep. Adan's determination to be a better father than his had been just leaps off the page and makes him that much more lovable to me.