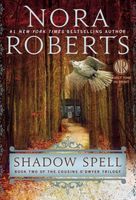 Series:
Cousins O'Dwyer Trilogy
(Book 2)
With the legends and lore of Ireland running through his blood, falconer Connor O'Dwyer is proud to call County Mayo home. It's where his sister, Branna, lives and works, where his cousin, Iona, has found true love, and where his childhood friends form a circle that can't be broken...
A circle that is about to be stretched out of shape -- by a long-awaited kiss.
Meara Quinn is Branna's best friend, a sister in all but blood. Her and Connor's paths cross almost daily, as Connor takes tourists on hawk walks and Meara guides them on horseback across the lush countryside. She has the eyes of a gypsy and the body of a goddess...things Connor has always taken for granted -- until his brush with death propels them into a quick, hot tangle.
Plenty of women have found their way to Connor's bed, but none to his heart until now. Frustratingly, Meara is okay with just the heat, afraid to lose herself -- and their friendship -- to something more. But soon, Connor will see the full force and fury of what runs in his blood. And he will need his family and friends around him when his past rolls in like the fog, threatening an end to all he loves...
Fantastic story of friends to lovers as well as good versus evil. Connor and Meara have been friends all their lives, but that's about to change. There have been hints of the possibility, but neither has taken that step.
The book starts out with a couple of chapters about the original three siblings who were involved in the fight with the evil Cabhan. The main focus is Eamon, the brother and ancestor to Connor. Like Connor, his affinity is to the hawk. Both are protective of their family and friends. Throughout the book, their stories are interwoven in a fascinating way, as they seek a way to destroy the evil that stalks their families.
The relationship between Connor and Meara starts as that of a deep friendship. They accept each other for who they are. As the danger for the group increases, things start to change. When Connor is attacked and nearly dies, it brings the simmering chemistry between the two to the surface. Connor is quick to realize that what he feels is love, but Meara resists the idea.
I loved Connor. He is a generally happy man, content in his work with the birds, comfortable in his identity as one of the O'Dwyer witches. He is loyal to and protective of his friends and the current crisis has those instincts working overtime. Besides fighting Cabhan for her safety, Connor also has to fight Meara's fear of commitment. I thought he had an amazing amount of patience as he waited for her accept the realiity of their feelings.
Meara was a strong and independent woman, seemingly fearless, until she has to face her growing feelings for Connor. They've always been friends, but since the troubles with Cabhan began she's felt like something is changing. She's been feeling stirrings of attraction and she doesn't want to. She's afraid of what something like that could do to their friendship. Meara only sees the misery that romantic love can bring, as she has seen what her father's desertion did to her mother. She doesn't want to risk that for herself.
When an attack by Cabhan nearly kills Connor, suddenly Meara is ready to acknowledge and act on the attraction between them. But she refuses to accept that it is more, and really freaks out when he tells her he loves her. This causes her to do something really stupid and puts her in grave danger. Though it eventually brings them closer, they are in for a tough time until then.
The buildup of the trouble with Cabhan is intense. Because they hurt him at the end of the last book (
Dark Witch
), he isn't up to taking on the whole group. So the focus of his attacks is on trying to hurt them individually. Meara is his target most of the time and we see her strength and that of the others as they come to the rescue. We also see how he takes advantage of her vulnerabilities. I loved seeing how the group of six work with and support each other. Even though Meara and Boyle have no magick of their own, they are still integral parts of the plan. With each new encounter the intensity builds, until they are driven to take action at the end. Of course, as there is still another book to go, they are not completely successful, but the entire event had me in suspense as to how far it would go and if our people would come out safely.
One of the best things about the series so far is the relationships among the six friends. There is respect for who and what they are. Even with Fin having the blood relationship to Cabhan, they all know what side of the battle he is on. I love the fact that they don't judge one another, even when mistakes are made. The problem is discussed and then they move on. I loved seeing the teasing that went on and how they could have fun even in the midst of all that stress. I am really looking forward to the next book with Branna and Fin. I can see that there is something in their history that has them wanting each other but is keeping them apart. I expect that they will have to deal with that before they are able to defeat Cabhan. It should be a wild ride.