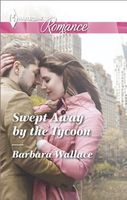 A woman who's been burnt… Chloe Abrams has had quite enough rejection for one lifetime. These days, she's flying solo!
A man who needs hope… Former soldier Ian Black was once the king of Manhattan. Then his PTSD caught up with him and his whole world crumbled. Now he's on a mission to rebuild it.
A love worth risking everything for! Ian sweeps Chloe off her feet and makes her feel cherished. Dare she start to believe the most heartwarming truth of all -- that the best men stick around forever?
Good book. Chloe hasn't had good luck with the men she's dated, so she has decided to take a break from men for awhile. Then she meets Ian, a guy who hangs out at the coffee shop she goes to every day. He teases her, he tells her she deserves better than she's gotten, and is easy to talk to. She thinks of him as "The Slacker" at first, because he's always there and doesn't seem to have a job. Ian is trying to put his life back together. After several years in the military, he put what he learned into a successful business. But he had been cold and ruthless, and a functioning alcoholic, until his life fell apart. Now he's trying to fix it.
I loved the opening scene, as Chloe discovers what a jerk her current boyfriend is and what she does about it. But it just reinforces her belief that she can only attract losers. I loved Ian's commentary as he compliments her on what she did. He's been watching her for awhile and likes what he sees. Ian spends his time at the coffee shop going over his past and working to make amends to the people he has wronged over the years as part of his recovery. Because he feels he has been such a rotten person he doesn't think that he deserves kindness from anyone.
I loved the banter between Chloe and Ian as they first started getting to know each other. Chloe was a bit snarky toward him at the beginning, but began to see a different man than the one she expected. She ends up listening to him when he tells her about himself and is impressed with the way he is taking control of his life now. She also sees his insecurity when he talks about seeing his son for the first time in thirteen years, and offers to go with him for moral support. When the weather traps them together for a couple days they get closer, and their attraction starts to build. Ian still doesn't believe that he deserves the kind of happiness that Chloe can give him and starts to withdraw. Chloe sees that withdrawal as just another example of how she isn't good enough for any man to stay with. Chloe has always felt a sense of rejection because of the way her father walked out when she was young. He had never been there for her and she always felt the lack. When she hears Ian talk about his son and his own actions she wants him to understand how important it is that he keep trying to reach him.
Both Ian and Chloe have to face the demons of their pasts before they can look at a future together. I loved seeing Ian discover that the most important person he has to forgive is himself. And Chloe has to be willing to take a chance risking her heart, depending on love to make Ian want to stay. I loved the final scene at her friend's wedding.