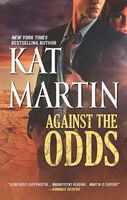 Series:
Raines of Wind Canyon
(Book 7)
This case may prove to be too hot to handle.
There's silver out there: Sabrina Eckhart is sure of it. And when she finds the hidden mine on that big piece of West Texas desert, all of her financial problems are solved. That is, if she can find it. The man with the skills she needs is private investigator Alex Justice -- a former navy fighter pilot and a current pain in the neck.
When mysterious "accidents" start to plague their search, it seems Rina's multi-acre inheritance might be more a curse than a blessing. And yet, there's still something sensual about the heat…his arrogance…her stubbornness…being thrust into each other's arms by danger… But the vultures are circling, and if they don't watch their backs, the relentless desert sun could be the last thing Rina and Alex ever see.
Good book. Rina's life as a stockbroker has taken a bit of a downturn, but she feels that she can turn it around if she can find the silver mine on the property her uncle left her. She needs a pilot who can fly her over the land to look for it, and the best man for the job is Alex. She hires him to do the job, and ends up grateful for his skills, as the helicopter they use is sabotaged and they end up stranded in the desert for a couple days.
Rina thinks Alex is pretty sexy, but that he's also an arrogant, egotistical jerk. Alex doesn't have a very high opinion of Rina either, though he's certainly attracted to her. Those two days in the desert make them see each other very differently. After their rescue and some recovery time, Rina is ready to resume her investigation when she's involved in a suspicious car accident. Alex suspects that someone wants her dead, and that it has to do with the mine. He is determined to keep her safe and if that gives him a chance to get her into his bed, so much the better.
The chemistry between Alex and Rina is hot and they can't keep their hands off each other. Neither one is looking for a relationship and agree to just enjoy each other. But Rina worries that it will be far too easy to fall in love with Alex and she doesn't want that. She sees Alex's past, with his playboy ways and avoidance of any kind of commitment and knows there's no future with him. Alex avoids commitment like the plague. He feels that his life is too unsettled to be able to add a wife to it, so he sticks with the light and fluffy affairs. He is a bit of a control freak and feels that he has to be able to be sure of all parts of his future before committing. But his time with Rina is changing him. He feels things for her he hasn't felt for anyone else and it confuses him. I wanted to smack him for his reaction when Rina told him she loved him. It took one of his coworkers to point out that some things just can't be controlled for him to realize what an idiot he had been.
I really enjoyed the mystery aspect of the book. I loved Rina's confidence in her uncle's claim about the mine. She is determined to follow up on it and find the silver. The attacks on her get more intense as the culprit gets more desperate to obtain the mine. I really liked the way all the guys work together to figure out what is going on. I also enjoyed seeing Rina insist on being involved every step of the way. She wasn't going to allow herself to be left out of the loop. I did understand Alex's frustration sometimes when she would interfere with what he wanted to do. There were a couple interesting twists to the final reveal that I didn't see coming.
I also enjoyed the secondary story involving Alex's sister. I loved seeing the relationship the two had, as it showed a different side to Alex. I got very frustrated with Becca when she was trying to force her daughter into the same kind of mold her mother had forced on her. She also had kind of a snobby attitude toward Joe until she finally saw that she was still trying to please her mother. Once she saw her mistakes, things really improved for her. The addition of the murderer/molester to the mix gave Joe an extra chance to show his love for Becca and her daughter. The rescue operation was really intense with some question as to how it would all turn out.