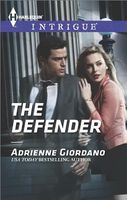 By all accounts Penny Hennings was the sort of woman FBI special agent Russell Voight went for. Smart, sexy and with just enough sass to keep him honest. Then she went sticking her nose in undercover FBI business. He knew her legal reputation would skyrocket if she won this case. But every move she makes undoes all the work Russell's put into taking down the city's biggest crooks. And the criminals they're after will do anything to avoid the witness stand--including kill. So it's time to pool their resources and collaborate. Even if working together every day takes them late into the night...and into the line of fire.
I can't say enough about how much I loved this book. We first met Penny in her brother's book,
The Prosecutor
, when she was trying to clear someone that he was trying to keep in prison. I knew then that I wanted to read her story. This book starts out with a bang, quite literally, and the action never stopped.
Penny is a top notch defender. When one of her clients comes to her because of threats against her life and that of her son, Penny also finds herself in the line of fire. Russ is on the spot to save her and her father, because he had been waiting to meet with her. He needs help from her and her client to put a particularly nasty criminal away. This man is also connected to the death of her client's husband and she has information that will help Russell nail him.
I loved Russell and Penny and the relationship between them. As an agent, Russell really doesn't like defense attorneys, because they work to free the same people he wants behind bars. Five months earlier Penny had decimated Russell and one of his cases on the witness stand. She is petite and beautiful and aggressive in the courtroom, which has earned her the nickname of "Killer Cupcake". As much as he knows he shouldn't like her, he does. There's just something about her attitude that really speaks to him. He is also very attracted to her, which he acknowledges to himself and to her, though he knows that doing anything about it until the current crisis is over would be a bad idea. I loved just how well he understands her and is able to deal with her in all her moods. He really endeared himself to me when he stood up for her against her horrible oldest brother.
Penny is a real firecracker. She is intense, strong and independent. She will do whatever it takes to win her clients' cases, including going head to head with a certain FBI agent. He's sparked some interesting fantasies in her mind ever since their first encounter five months ago. One of the things she likes best about him is that he can give as good as he gets in an argument with her. When they discover that she and her client are the targets, she has to rely on Russell for his protection, a point that is both good and bad. It's good, because he is definitely motivated to protect his investigation. It's also bad because she discovers just how much Russell gets her, an occurrence that hasn't happened with anyone else. It also means that she has a hard time getting away with anything around him. I loved the fact that she respected him enough to follow his directions, but that all falls apart toward the end when Zac is endangered and she does something really stupid. Fortunately she realizes her mistake before it's too late and things turn out okay. The last chapter shows just how well he understands her and brings them together in a most satisfying way.
The action and suspense throughout the book is nonstop. The bad guy is definitely into mind games as well as his criminal activities and Russell and Penny are kept on their toes. His phone calls to Penny are downright creepy and his ability to know just what they are doing was frustrating to them. The final showdown was really intense and there were moments when I wondered if someone was going to end up really hurt. I really enjoyed seeing the way that Penny dealt with all the restrictions, even when it put her in danger. I loved her interactions with the marshal Brent, and really hope to see him get a story of his own.