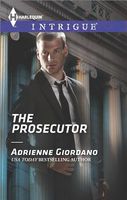 Chicago assistant state's attorney Zac Hennings just got handed a political hot potato: keeping the convicted murderer in a high-profile case behind bars. He's up against his most formidable -- and alluring -- adversary. First-year law student Emma Sinclair is passionately fighting to free her brother. But she needs the take-no-prisoners prosecutor's help.
Caught between attraction and letting a killer go free, Zac walks a tightrope. Until evidence surfaces that the real culprit's still out there. With his career and Emma's life on the line, Zac races to right a terrible wrong. Refusing to back down, he'll bring a cunning lawbreaker to justice -- or die trying.
Very good book with good blend of suspense and romance. Zac is a state's attorney who has been given the job of reviewing a case to make sure that a convicted murderer stays in prison. Emma is the sister of the convicted man, convinced he is innocent and determined to prove it. When new evidence surfaces she finds an attorney willing to take on the case, who just happens to be Zac's sister.
Emma has been fighting this battle for a long time and she finally feels like she's getting somewhere. She's thrilled with the new lawyer and her determination to prove Brian innocent. I loved her attention to detail. Meeting Zac, the man who's determined to keep Brian in prison, gives her an unexpected jolt of attraction. But she's also impressed by the way he insists he will go after the truth.
Zac is handed this case and told to make it go away. The state's attorney's office doesn't want any scandal cropping up in regards to the case. Having his sister working the opposite side of the problem makes him realize that this isn't going to be an easy fix. The more he finds out about the investigation that was done, the more problems he sees. He gets pressure from his boss to prove Brian guilty, but he refuses to be intimidated. He has to work with Emma as the two sides share information to get to the truth of what happened.
There is an instant and strong attraction between Emma and Zac. Both of them know that they shouldn't do anything about it while the investigation is going on as it could severely jeopardize the case. But they don't seem to be able to stay away from each other. I loved the chemistry between them both on the physical and mental sides. Zac also gets very protective of Emma as she receives several threats telling her to back off. I loved seeing the way he took care of her while still respecting her abilities.
I loved the suspense of watching as the evidence piles up that shows Brian is innocent. Zac doesn't want to believe that the investigation was so badly handled, but he can't deny the truth. There are some very interesting twists and turns on the way to finding out who is responsible. I have to say that it was so well done that I didn't figure it out until the end and even then there were a couple surprises. The ending was immensely satisfying.
There are some really fun parts in among the intense search for the truth behind the murder. Zac the prosecutor and his sister Penny the defense lawyer have a truly fun relationship. Both are extremely competitive and have no trouble showing it. Penny has a talent for pushing Zac's buttons, but she also knows that he is honorable enough to do the right thing. Zac is completely aware of his sister's actions, and also knows that she is honest about what she finds. I loved seeing the way she really jerks his chain about being with Emma.