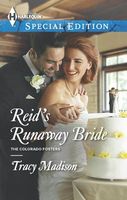 Series:
Colorado Fosters
(Book 3)
The runaway bride returns -- just in time for another Foster wedding?
Daisy Lennox comes home…and for Reid Foster, nothing has changed. Eight years after she bolted on their wedding day, he can't take his eyes off her. Seeing her walk into Steamboat Springs to care for her two little nieces, Reid is hit by an undeniable realization: they belong together…still.
Love. Marriage. Children. Daisy wanted them…a long time ago. But loving Reid comes with too high a price -- facing the family secrets she ran from. But then Reid makes his move…and Daisy starts to sweat. Can she stand up to the force of a Foster's will?
Reid won't let her go without a fight. She owes him a wedding…and this time he intends to collect.
Daisy ran out on her wedding to Reid eight years earlier. Her mother confessed to her that she wasn't the daughter of the man she thought of as her father, but the result of an affair. This caused Daisy to question who she was, so she ran away, hoping to finally get a sense of her self and learn to stand on her own. The one time she tried to reach Reid she was told to leave him alone. Now she has come back to care for her nieces while her brother is in the hospital, only to find Reid already there. She thought she was ready to see him again, that she was over him. As soon as she saw him she knew she was in trouble - she still loves him, but she's afraid that her hard won sense of independence won't be able to stand up to his appeal and determination. I liked the way that Daisy didn't hesitate to come home to help her brother. She's nervous about taking care of the girls since she doesn't know them that well. She still has a lot of insecurity about her ability to remain true to herself even around Reid. She is stunned at his statement that he still loves her and wants to marry her. I loved the slow buildup of their romance as they get to know each other as they are now. I loved seeing them finally talk about what had happened and how Reid showed her how well he's always known her and loved her. I got really frustrated with her backsliding when Reid told her his side of what had happened. Her doubts and fears still overcome her faith and it takes way too long in my opinion for her to see the light.
I loved Reid. His first sight of Daisy brought back a lot of strong emotions and I completely understood his reaction when she showed up at her brother's house. I loved the way that he so quickly realized that he had never stopped loving her. His quick reversal from anger to romance really confused Daisy and put her off balance. It was fun to see Reid use some of that confusion to talk her into spending more time with him. I loved his use of the new wedding to show her all the ways that he cares for her. He has some pretty creative methods of gaining her cooperation, even as she continues to insist that the wedding isn't going to happen. He's very happy with the way things are going, but he's also worried. He has a secret that he's been keeping all these years and he's really afraid that when he confesses it will drive her away again. I loved the certainty he had that everything would work out, even as those around him had their doubts.
There were also great supporting characters. As always the Foster family provide great support for each other and I loved seeing them join in with Reid's crazy plans. Daisy's two nieces were adorable and made a great way to force Reid and Daisy to spend time together at the beginning. But the one that stole the show was Daisy's dog. Jinx was a near perfect copy of Daisy herself. Her dislike/fear of men mirrored Daisy's own fears. I loved the way that Reid's patience won over the dog, just as his patience eventually won him Daisy.