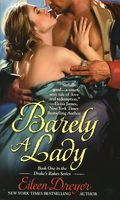 Series:
Drake's Rakes
(Book 1)
HE CAN'T REMEMBER...
Olivia Grace has every reason to despise Jack Wyndham, Earl of Gracechurch, who scandalously married and then divorced her, ruining her completely. Yet when she finds an injured Jack on a battlefield wearing the enemy's uniform, she can't resist saving him. He might have broken her heart, but can he truly be a traitor?
WHAT SHE'LL NEVER FORGET...
When Jack awakes he is shocked to discover that he has lost Olivia's love -- and much of his memory. Did he really destroy their marriage? And what do his dreams of blood-soaked French uniforms and revenge mean? As the noose of danger tightens around them, Jack and Olivia must determine which is most frightening: the threat of the hangman, their own tempestuous history, or the passion that flares between them once again.
An excellent second chance story where love may not be enough to conquer all. After being driven from her home and divorced when Jack accused her of infidelity, Olivia has been on the run. Her disgrace makes it impossible to find work under her own name, so she has been using an alias. She has also been running from Jack's cousin, the man behind all her troubles. She finds herself in Brussels on the eve of Waterloo, befriended by two other women, with whom she works caring for the wounded. After the battle she finds Jack lying unconscious on the battlefield, wearing a French uniform. She may despise him for what he did to her, but she doesn't believe he's a traitor, so she takes him home to care for him.
When Jack wakes up he's thrilled to see Olivia, and has no memory of the past five years. He believes they are still married and has no idea of what he's been doing. He senses that there is something wrong between he and Olivia, but can't get her to tell him what happened. He's also getting flashes of memory that confuse and worry him. There's danger stalking him that he's desperate to remember before it brings harm to Olivia. He also wants a chance to fix whatever it was that he did and win back her love.
Olivia has grown strong and independent in the five years since her disgrace. She's done many things in order to survive and is currently working as a companion under an assumed name. While helping the wounded she is accosted by the man who ruined her marriage, and rescued by Duchess Kate who quickly becomes a friend and ally. Finding Jack on the battlefield in the enemy uniform is a shock to her, but she can't leave him there. She's determined to keep him safe until he recovers and can explain. Being near him again starts breaking down her protective walls and she starts to hope that maybe their future can get back on track. But when his memories start to return, those growing feelings don't seem to be enough.
Jack has done a lot of growing up in the last five years also. When he and Olivia were married he had still been young and pretty full of himself. He had wanted her and pursued her until he got her, but his family had been very much against their marriage. He didn't have the maturity to stand up against their attitudes, and never saw the deception perpetrated by his cousin that caused the end of his marriage. His actions at that time were beyond atrocious and way into cruel. Not long after that he left England to do some work for his friend Drake and over the next few years used that work to try to escape the pain of Olivia's loss. When he wakes up from his injuries he can tell there's something wrong between them, but he has no idea what. As he spends time with her, all he knows is that he wants to fix whatever it was. Until partial memories start to return and suddenly he's right back in the past and it's like he hasn't learned a thing. I was so mad at him here and heartbroken for Olivia. I really wasn't sure he was going to be able to dig himself out of that hole. Of course, he did manage to redeem himself and in a pretty big way.
I loved the secondary characters in the book. Duchess Kate was delightfully outrageous, but also sharp as a tack and a huge part of the story. I loved Grace Fairchild and the way she had such a calm and clear view of events. She gave a different perspective on the military parts of the story. In this story, Diccan Hilliard plays an important part in helping Jack, but there are also parts of him that I wasn't sure if I liked or not. I also enjoyed the various members of the staff, all of who were quite unique.
The mystery of Jack's memory loss and what he was doing on the battlefield was very well done. I knew that Jack wouldn't be a traitor, of course, and that there would be a good explanation for why he was there. I loved the description of Olivia and Grace's trip to the battlefield, and how it made me feel as if I was there. Olivia, Grace and Kate worked very hard to keep Jack safe, but also to try to discover the truth. Things started getting more intense as there were glimpses of those who were looking for Jack and the lengths they went to in order to find him. I loved seeing some of those who got involved, as they are the stars of later books. By the time they all got to England things were coming to a head and I couldn't wait to see what happened. I loved how most of Jack's part got solved and explained, but there's still enough left hanging to lead into the next book.