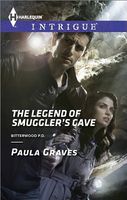 Series:
Bitterwood P.D.
(Book 6)
One man will go to any lengths when a vulnerable woman and her little boy are threatened
County prosecutor Dalton Hale is convinced widowed Briar Blackwood has information that can help him take down a local crime organization. Getting it is no easy task, though, considering the distrust in the Bitterwood police officer's beautiful gray eyes. But since he started his investigation, Briar and her tiny son have been attacked twice. The only solution is to move her and Logan into his home, where he can ensure their safety. However, neither Dalton nor Briar is prepared for the deepening feelings between them. Playing house is one thing, but when Briar's son is kidnapped Dalton recognizes he wants the real deal -- and will put his own life on the line to get it.
Loved this conclusion to the Bitterwood series. There's a lot going on in this book. First is the mystery of who is attacking Briar and just what it is they want. Second is the romance that develops between Dalton and Briar. Third is the whether Dalton will ever be able to accept his relationship to the brother and sister he never knew he had.
The book starts with Briar discovering that her aunt has been attacked and her home searched for an unknown reason. While at the hospital she is questioned by Dalton, who is convinced that her late husband was involved in some shady dealings and that she may know something. When she and her son are attacked again, he feels an unfamiliar need to protect them, so he moves them into his house. He's drawn to her in a way he'd never felt before.
It's been seven months since Briar's husband was murdered. She doesn't understand why there have been attacks on her after all this time, but she's determined to get to the bottom of it. She's irritated by Dalton's questions at the beginning, but his concern for her and her son's safety is evident. When he offers his home to keep them safe, she feels that she can trust him to do it. She's not so sure she can trust herself around him.
Once they realize that the attacks started after Dalton intensified his investigation of the Cortland organization, they had a place to start looking. Once they began working together things started happening fast. When Logan was kidnapped in order to force Briar to turn over information, they had to work quickly to find it and save the little boy.
I loved both Briar and Dalton. Briar is an independent, confident and kickass mountain woman. She has always been self-sufficient, even after marrying her husband. Her recent promotion to police officer has only increased those abilities and she will do anything to protect her son. Dalton rubs her the wrong way at first but she does cut him a little slack because she knows of the personal issues that are affecting him. I liked the way that she trusted her instincts and moved in with him in order to protect Logan. The two of them struck some real sparks off each other, but tried to resist because of everything that was going on. Briar's growing feelings for Dalton were enhanced when she saw how wonderful he was with her son. I also enjoyed some of the interactions between them as they got to know each other. She does have some feelings of not being good enough for him because of the differences in their lives. She also sees enough of his conflict over his personal issues that she can't resist trying to help him through them.
Dalton has had a rough few months. In a previous book he learned that he had been kidnapped as an infant, and that his grandfather and father were responsible for the death of his birth mother. He had a good life growing up, but now he feels like he doesn't really know who he is. He's feeling all kinds of anger over it also. He's taken a lot of that stress and channeled it into his work, especially the Cortland investigation, and Briar's husband is an important part of that investigation. The first time he sees her he feels a tug of attraction, unwelcome though it is. When he questions her about her husband, he's impressed by her straightforward attitude, but he also sees some vulnerability. That vulnerability has him wanting to protect her when she is attacked again. I loved seeing how easily they became part of his life when they moved into his house. I loved seeing him enjoy being with Logan and take to all the daddy like activities. He realizes just how much he cares for her when she's put into danger. It was great to see him give her the support she asked for, even though he just wanted to protect her. I really liked the way that he wasn't threatened by her abilities. I also enjoyed their interactions about their differences.
One of the best parts of the book was seeing the relationship between Dalton and his brother and sister develop. It had started out so confrontational on his part that it was hard to see that he would ever be able to get past the anger. Thanks to the problems Briar is having, he ends up spending more time in Doyle and Dana's company and slowly gets to know them. There are some great interchanges between them that sound more like siblings than adversaries. Having been an only child he had no experience with the kind of support that siblings can give until he gets a taste of it here. I loved seeing the way Briar pushes him to let go of his anger.
The solving of the mystery was very well done. I loved seeing the way that Briar's experiences held an important key to finding the missing information. The kidnapping and search for Logan were definitely edge of the seat for me as I waited for them to rescue him. There was a very interesting twist to the events that led up to the kidnapping and happened after the rescue.