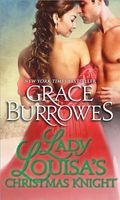 Series:
Duke's Daughters
(Book 3)
No one would ever guess that Lady Louisa, the most reserved of the Duke of Moreland's daughters, had published a book of racy poems under a pseudonym on a dare. Before she can buy and destroy all of the copies, a dastardly fortune hunter seeks to compromise her reputation by revealing her secret identity at a holiday ball.
Before she can be publicly ruined, close family friend Sir Joseph Carrington saves the day by offering to marry Louisa. As he recites poetry to her, waltzes with her by starlight, and showers her with lovely kisses, they both begin to discover that their match may be the best Christmas gift either has ever received...
Very fun book. Both Louisa and Joseph are something of social misfits. Louisa is very smart and honest to the point of bluntness. She has never learned the art of flirtation and as a result has found no match after eight years. She is ready to give up the search and retire to the country. Joseph returned from the war with a limp and a knighthood. He is very happy staying mostly in the country, raising pigs and taking care of his daughters. He's due to inherit a title and isn't looking forward to it at all.
During a local hunt, Louisa rescues Joseph from pursuit by several marriage minded ladies. They find that they have a much easier time talking to each other than to other people and a friendship is born. During a ball both are attending they spend some more time together, with Louisa giving in to her desire to kiss Joseph. The result is a surprise to both, Louisa never having experienced anything like it and Joseph liking it far too much for his comfort. Later that evening Joseph saves Louisa from a drunken man who seeks to compromise her.
In order to save her reputation, Joseph proposes marriage, first to another man, then to himself. He still feels she's far above him, but he's come to care for her too much to let her suffer. Louisa's reaction is typical of her personality.
While both look forward to their marriage, each of them has a secret that they fear could wreck their future. Those fears become stronger as both receive letters threatening exposure unless demands are met. But their growing feelings for each other create a need to confess all in order to preserve their marriage. In the end both secrets, the blackmailer, and the rest of the family come together in an outstanding conclusion.
I loved the way that both Louisa and Joseph were so perfect for each other. Neither one is particularly fond of society shindigs, preferring to pursue their own interests. Joseph has quite the poet's soul, often quoting it to Louisa. Meanwhile, Louisa had a marvelous way of sensing his needs, especially when his leg was bothering him. There were a couple of great leg massage scenes where she really surprised him. One of the things I loved most about both of them was their honesty with each other. Except when dealing with their individual secrets, neither had trouble being straightforward with their thoughts.
I loved seeing Joseph with his daughters at the beginning. It was obvious he loved them, but that he was also unsure of how to deal with them. Louisa's arrival at his home was great. I loved the way that she saw what was happening and fixed it. That first conversation with him about the girls was pretty funny.
The problem of Louisa's secret was pretty well dealt with. I felt bad for her that the problem was in part caused by her brothers' actions, and loved that they were all trying to help fix it. Louisa was the only one who knew about the notes she was getting and she was trying to figure out how to deal with them. I liked the fact that giving in wasn't going to be an option.
Joseph's secret was pretty interesting. The way it was spoken of at first was a bit disturbing, as I couldn't see a man as honorable as he is acting that way. I began to suspect the truth before the full story was told, and found it to fit perfectly with Joseph's character. He too was getting threatening notes from the same person and was trying to figure out a way to discover who it was. I really liked the fact that neither intended to keep their secrets for long. The identity of the blackmailer had a slight twist to it that I didn't see coming.
As usual, the secondary characters add a great deal to the story. I loved seeing her oldest brother basically get scolded by Joseph for the way that they had treated her when they were younger. The interactions of all the siblings are fun to see. I especially love seeing how their marriages are working out, having earlier read their books. None of them can compare to the Duke and Duchess. I love how their marriage is such an example to the others. The Duke's antics when it comes to taking care of his family can be pretty funny. I really loved the scene at the end with them and the Prince's envoy.