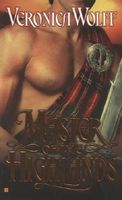 Series:
Highlands
(Book 1)
SHE'S BACK IN TIME...
Lily Hamlin has finally realized that her life isn't as perfect as she once thought. Lily hopes that making a pilgrimage to Scotland, a land she's only heard about in lullabies, will help her to find her place again. But while exploring the Highlands, she discovers an overgrown maze and a strange stone map--and lands in the Lochaber of 1654...
...JUST IN TIME FOR HIM.
Ewen, Chief of the Clan Cameron, is a busy man who must figure out how to save his people from the brutal redcoats and has time for little else. Having sired an heir, the widowed Ewen has no need--or room--for another romance. Then into his life drops a saucy lass with a peculiar accent, no regard for his title--and an arousing body. Drawn to each other despite their differences, they both realize that they don't want Lily to go back to her own time. But with battles brewing between the Camerons, the redcoats, and a rival clan, staying is a gamble.
Pretty good book. Having devoted years to her job, Lily has finally realized that something is missing. She takes a trip to Scotland, visiting places that her grandmother talked about and hoping to find some peace. While looking for something different to sketch she wanders into a strange maze and comes out of it more than 350 years in the past. She's rescued by Ewen who takes her to his home while he tries to figure out how to get her back where she belongs. Meanwhile, he is trying to protect his people from the incursions of the English. He doesn't have time to deal with Lily and her strange ways, but there's something about her won't let him ignore her.
I liked Lily. She's independent, resourceful, yet also has a soft heart once she opens it up. Her trip through the maze also showed a somewhat reckless side to her personality. Her instincts were telling her not to go into it, but she ignored them. When she came out in 1654 she was very disoriented and was pretty much out of it when Ewen picked her up. When she regained consciousness at the castle she was sure that she had fallen in with a bunch of crackpot reenactors, even after the truth was explained to her. She tried running off to find her way back to civilization and ended up captured by some English soldiers. By the time Ewen rescued her again, she accepted that the impossible had happened and that she was stuck there for the time being. Since she needs to earn her keep, Ewen puts her to work teaching his ten year old son who is quite a handful. It takes some work, but she soon has the boy behaving fairly well and interested in learning what she has to teach. She's pretty adaptable and is soon handling things pretty well. The arrival of a woman who is determined to marry Ewen by fair means or foul creates some real problems for Lily. By this time she has realized that she is falling in love with Ewen. She senses that Rowena is trouble and is kept on her toes trying to protect herself and Ewen's son. The final showdown is pretty intense with Lily needing to protect Ewen's son, and then also protect herself when she's attacked by a rival clansman. While that turned out well overall, there was also some sadness that came along with it.
Ewen is young to be laird of his clan, but he was well trained for it. The Cromwellian army has been wiping out groups of highlanders and Ewen is trying to find a way to keep his clan at peace. Accepting a bribe from General Monk and swearing allegiance to England is not the way he plans to do it. I loved seeing him stand up to the general, who did not measure up well compared to Ewen. It is on the way home from that meeting that he finds Lily. There's something about her that appeals to him from the moment he met her. She is very different from any woman he has ever met, and he finds himself really liking those differences. He's attracted to her but has no intention of ever marrying again. His wife had been a real stinker, not faithful, and with a nasty personality. She died in childbirth. Ewen has his son and feels no need for other children. He's not overly surprised at her story of time travel, as his foster brother had also come from another time. He does know that he needs to keep that particular information from others who would not understand. I loved the way that Lily tests his self control. It shows that his heart is getting involved even though he didn't want it to. It was great fun to see those feelings develop and his various ways of trying to fight it. He did seem a bit oblivious to Rowena's machinations, at least until she put his son in danger. I liked his growing appreciation for Lily's abilities and the trust he put in her when he left for the battle. I loved the ending and the way he gave Lily the choice of whether to stay or go, though he made sure to let her know that he wanted her to stay. I liked the epilogue, with just enough information to see they're on their way to their happy ever after.
Though the book can't really compare to Gabaldon (nobody can), Kurland, Moning or Chapman, I found it a very enjoyable book to read.