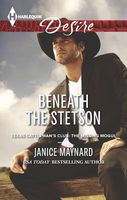 Series:
Texas Cattleman's Club: The Missing Mogul
(Book 7)
Millionaire rancher Gil Addison does not need Bailey Collins. She is far from the sweet homemaker he thought he wanted. But she is a beautiful woman with a badge, hot on the heels of a kidnapper in Gil's club. And Gil is hot for her!
Bailey can't let her career get sidetracked by the cowboy and his son. She's here to do a job, not find a family. Bailey won't stop till she gets her man in cuffs…. Trouble is, Gil won't stop till he gets this woman in his bed!
Very good continuation of the series. As president of the TCC, Gil has to deal with Bailey and her investigation into Alex's kidnapping. As a man, he has to deal with his intense attraction to her. She's not at all what he had in mind for a future wife and mother for his son, but he can't seem to keep his distance.
I really liked both Gil and Bailey. When his wife died, Gil decided that he would do everything in his power to give his son all the love and attention he needed. He has turned most of the day to day work on his ranch over to his foreman. While he has no regrets about making Cade the center of his life, he does admit to himself that it can be rather lonely. He would like to find a woman who would be a good match for him and mother for his son, thinking that a traditional sort of woman would be perfect.
The story opens with Bailey arriving to do yet another interview with Gil, who still resents her poking around in the lives of his friends. This time she meets Gil's son Cade, who gives Bailey a whole new perspective on Gil and what makes him tick.
Bailey has been working hard on her investigation. She is determined to find out who is responsible for Alex's kidnapping. To that end she lets Gil know that she needs access to the membership records at the TCC. This ends up requiring them to spend a lot of time together, and brings the sizzling attraction they feel for each other to the surface. Bailey doesn't want the attraction to distract her from getting the job done, but being around Gil and Cade makes her realize that there is something very important missing from her life. She has spent so long depending on no one except herself that allowing Gil to get close to her and leaning on him is a scary idea for her.
One of the things I liked most about the relationship between Gil and Bailey is that they are very aware of the effect it could have on Cade. Gil knows that Cade has been on the lookout for a new mother and doesn't want to give him any ideas that could then cause him to be hurt. Bailey's own experiences of having lost her mother at a young age gives her great empathy with Cade and allows her to relate to him very well. There are some wonderful scenes of the two of them together that also make Gil realize what a wonderful mother Bailey would be.
Gil worries a lot about Bailey and her job. With the kidnapper still unknown, he fears that she could be in danger as she moves further along in her investigation. When she is attacked his fears for her are overwhelming. The identity of the attacker was a very interesting twist that I did not see coming.