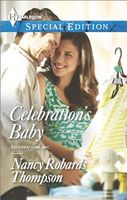 Series:
Celebrations Inc.
(Book 6)
First comes baby, then comes…marriage? Two best friends discover the secret to true love
How? Well, she knew how… But Bia Anderson couldn't believe her uncharacteristic fling with a celebrity resulted in a baby. Her newspaper job was hectic, she'd just discovered her birth mother…and now this! Just when she thought it couldn't get crazier, the paparazzi descended on little Celebration, Texas. She needed help….
Enter Aiden Woods. "I'll be your fake fiancé and your baby daddy." The pretend proposal wasn't just to throw off the media. Aiden had always been her BFF…and he wanted more. Still, the timing was never right. Well, it was now or never. But with Bia's hormones raging, could Aiden prove that everything she wanted was right in front of her?
Good friends to lovers story. Bia has had a rough couple months. First she had a brief fling with a movie star, which ended when he went home. Then she discovered she was pregnant. When she's harassed by paparazzi again, her best friend Aiden steps in to help take the heat off her. He offers to play the part of her fiancé and father of the baby. She's not too sure about that as she doesn't want to ruin their friendship, but she's happy for the support.
Bia is a strong, independent woman but she's been hit with a lot of surprises lately. After her father's death she found out she was adopted, but has no information about her birth parents. Then she had the surprise of her pregnancy. While dealing with the fallout from that, her birth mother makes contact with her. Finally, Aiden's surprise proposal that suddenly has Bia looking at him in a whole new way. But she has some trust issues dealing with Aiden, thanks to his involvement in the end of her last relationship. She has also seen him run through women and doesn't believe that he's capable of commitment. Even though she comes to accept her feelings she still has trouble with the idea of taking a chance.
Aiden is an all around nice guy. He has been friends with Bia for a long time. He started seeing her differently while they were in college, but by that time she was in love with his roommate. That's when he began his varied dating career, but he always maintained his friendship with Bia. They had a rough patch when she blamed him for her ex-fiance's cheating, but they have moved past that. Now his protective instincts kick in when she has problems with the paparazzi over her brief relationship with that movie star, so he claims to be her fiance. This serves a double purpose for him, as it helps her out but also gives him the chance to get closer to her in a way he hasn't before. I really loved his patience and persistence as he tried to show Bia that his feelings were real. His big moment at the end was so sweet.
I also enjoyed the secondary story involving Maya, the chocolate maker who played such a big role in the previous books. I loved the quick connection she developed with Bia and how she used her experiences to help her. She had a very interesting history. I really liked seeing her get to know the gentleman who came shopping at her store. There was quite a twist to his story, though I did have my suspicions about him from the start. It was a lovely conclusion to her story and the series.