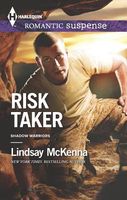 Series:
Shadow Warriors
(Book 3)
A Navy SEAL fights the most important battle of his life--love--
In the mountains of Afghanistan, her daring rescues have made Medevac pilot Sarah Benson a legend. She loves taking her helicopter where others fear to fly--the danger, the adrenaline...and the distraction from thinking about her own hurt heart.
U.S. Navy SEAL Ethan Quinn is man enough to prize Sarah's valor as well as her beauty. But his efforts to reach his beautiful colleague cannot pierce her armor. Can he prove that it's possible to find love in a war zone?
Fantastic book, with an excellent balance between the action and the romance. Both main characters are portrayed with incredible depth. Sarah is medevac pilot in Afghanistan who has pulled off some daring rescues. When she isn't flying she holds herself apart from others, especially men. Ethan is a SEAL who is drawn to her beauty and the sadness he sees in her eyes.
Sarah is a daring pilot whose early childhood has created a deep distrust of men. That distrust is augmented by the treatment she receives from the other men on base. We first see her as she is approached by a man who does not take his rejection well. Ethan is drawn to her from the moment he sees her. He senses a deep sadness in her and would like to get to know her. Later that day he rescues her from an assault and has the chance to get to know her a little.
Ethan is a different kind of SEAL. Outside of his profession he is a kind and sensitive man. He has a side of him that his SEAL brothers are unaware of - he writes poetry. He uses his writing to deal with the things he has seen and the emotions they cause. From the moment he rescues Sarah he feels a deep connection to her. That connection allows him to see the vulnerability behind the walls she puts up.
I loved seeing the patience that Ethan had in getting to know Sarah. Everything he learned about her only made him care even more. I loved the way that he used his poetry to show her how special he thought she was. Sarah's fears run deep, but there is something about Ethan that she finds easy to trust. She tells him things that she has never told anyone else and is surprised by how much she wants to know about him. The poetry that he writes for her touches her deeply, but her insecurities have her pushing him away.
I loved that Ethan gave her the space that she asked for, but wasn't going to give up on his feelings for her. The time that they spent together showed him that she did care, but he could see that she had trouble believing in what they could have.
I loved the action sequences and the additional depth they gave to the story. What they do is such an important part of who Sarah and Ethan are. I loved seeing the confidence Sarah has in herself and her abilities as a pilot. She also has a bone deep need to make sure she gives her all to the rescue of the injured. The descriptions of her flights are so good that I could almost feel the way the chopper moved during the explosions and feel the tension as she tried to get in and out safely. I could feel her fear when she knew that Ethan was one of those on the ground as she flew in. I liked seeing those same sequences from Ethan's point of view. His immense respect for Sarah and what she does was obvious. I could also feel his fear for her as she flew into the battle to evacuate his wounded brethren.
One of my favorite parts of the book came at the end, as Ethan takes her to meet his fellow SEALs. The respect that they all showed to Sarah was incredibly moving. I also loved the way that Ethan's boss showed her the kind of respect and appreciation that her own did not. Even better was the demonstration that, as an honorary member of the SEAL family, they had her back. The description of just what that entailed was very satisfying. I am looking forward to the continuation of their story in the next book.