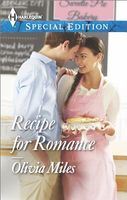 Series:
Maple Woods
(Book 2)
When Scott Collins walks into the Sweetie Pie Bakery on opening day, Emily is convinced she is seeing a ghost! It has been twelve years since he left town without a word -- twelve years since he shattered her teenage heart. What has brought him back to Maple Woods? And why now?
Time has only improved Emily's beauty, Scott muses. He would give anything to take away her pained expression, to be able to hold her in his arms again. But the family secret that drove him away still stands between them. And telling her the truth could ruin more than just their second chance at a happy ending….
Good book with some heavy emotions on both sides. Emily and Scott had been high school sweethearts, until the day Scott left town without speaking to her. He hasn't been back for twelve years. Now he's come back to help out his father's construction business for a few weeks. Scott has never forgotten Emily or the way he felt about her. He'd like to be with her again, but the secret that sent him running is still there.
Emily was stunned to see Scott appear at the bakery. He hasn't been back or even contacted her since he left. Seeing him again brings back all the pain of his departure, but there's also a part of her that still cares. Her life hasn't been easy since the death of her father in a construction accident at one of Scott's father's sites. With no insurance money coming, Emily's mom had to work multiple jobs to make ends meet. Then her high school romance ended abruptly. There was no money for her to go to college, so she has stayed in their small town, and now works as a baker for Scott's sister. She's finally ready to follow her own dreams and has applied for culinary school. Even though she knows Scott isn't staying, she can't help thinking of what might have been, especially when they start spending time together again. Just when she's fallen for him all over again, he finally breaks his silence and tells her why he left. She's furious that he kept it from her all these years and doesn't know if she can forgive him for what was done or that he didn't tell her to start with. Emily spent a fair amount of time fighting her feelings because of the hurt and anger from the way he left. I thought her reactions to his reappearance were very realistic. I especially loved the pie throwing contest, it must have been very satisfying for her. It was interesting to see how her sister started out being anti-Scott but by the end was pointing out how much he loved Emily.
Scott had been so in love with Emily back then and didn't understand why his parents had a problem with him dating her. When he found out why he was devastated. He had a big blowout with his parents and left home that night. He hasn't been back in twelve years. He now owns his own construction business in Seattle, but came back to Maple Woods when his sister begged for his help. He still wants nothing to do with his father, but consents to staying long enough to get the library project started. Seeing Emily again makes him remember just how much he loved her, and still does. He's drowning in the guilt he feels over what happened to her father and for leaving without telling her why, but he wants to spend time with her. As he finds ways to be with her he also realizes he can't hide the truth from her any longer. It was a difficult decision because he knew it could turn her against him. Scott's problem with his parents actions have created a problem between himself and his sister Lucy (who is also Emily's boss). He doesn't want to cause her to look at them differently so he can't tell her why he refuses to come home. Though finally sharing with Lucy ends up making a huge difference to his relationship with Emily, I was disappointed that there wasn't really any kind of conversation with his parents.